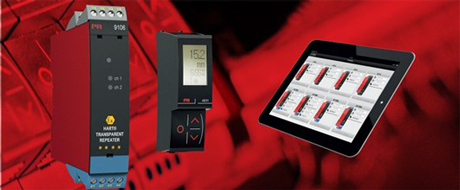 From analog to digital with 4511
Introducing PR 4511 – a new, detachable interface which enables digital communication on all current and future PR system 4000 and 9000 devices.
With the PR 4511 operational interface you can enable Modbus protocol – while still preserving the analog signal - on your existing base of PR 4000 and 9000 devices. Mounting 4511 is easily done by simply clicking the interface onto the front of your installed device.
App for remote monitoring, calibration and programming
Thanks to the intuitive detachable communication interface, installed devices can be accessed and configured in a matter of seconds through Modbus, or via Ethernet through our new Gateway – or accessed remotely through our PR Process Supervisor (PPS) app. You can use the app for remote unit monitoring, calibration and programming using a tablet – anytime, anywhere.
Future proof new communication protocols
Enabling our devices with 4511 and PPS gives you a smart, cost-effective and simple alternative to AMS and future-proofs your entire install base for new communication protocols.