PR electronics launches new, user-friendly global website
The new site invites visitors to explore the full range of PR electronics' state-of-the-art signal conditioning devices and reflects the significant transformation of the PR electronics business over the recent years.
This week PR electronics launches a new global website. The site offers users a fast and user-friendly way to navigate PRs extensive range of signaling devices for industry processes. For easy overview, products on the site are grouped into six logical 'pillars': Temperature, I.S. interfaces, communication interfaces, multifunctional devices, isolation, and displays. Under each pillar, users can filter products by approvals. Each individual product page offers technical details, overview of device approvals, and documentation for downloading.
The site also features industry specific contents, support information, a comprehensive download section, product news, and more.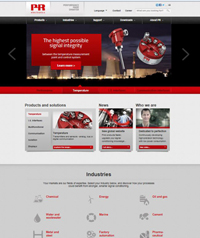 Based on the same core principles as PR electronics products
Besides faster navigation and better overview, the new, global website better reflects the development in PRs international customer base and the essense of PR electronics offerings:
"PR electronics has evolved significantly during the past couple of years. Today, we serve customers in a wide range of industries - and our company is truly global with representatives and partners the world over", says Simon Bisbo, CSO at PR electronics, and continues:
"Like many growing companies, we felt like we had outgrown our previous website, and a fresh perspective was needed. We wanted the new site to be based on some of the same core principles as our products are based on; high quality, ease of use, and great design. We have strived to incorporate these principles into the site by offering high quality contents, user friendly navigation, and a contemporary look and feel. The aim is to provide a great user experience and give an impression of the people, the philosophy, and the work that lies 'inside PRs signature red housing'", Bisbo concludes. 
Local language versions to be introduced
In addition to English, local language versions - including German, French, Italian, Spanish, Chinese, Danish and Swedish - of the new site will be made available throughout September and October. During the transformation period, users will still have access to the present local sites.