A new standard in backplanes
Ronde, DK, February 11, 2014. PR electronics is expanding the I.S. interface range with a unique, new backplane. The PR backplane provides a user-friendly, reliable connection between the DCS/PLC system and the I.S. interface module...
The new PR backplane is the latest addition to PR electronics' I.S. interface range. It greatly simplifies mounting and wiring in larger industrial process installations and seamlessly integrates with standard DCS systems.
More flexibility and connectivity combined in one compact design
The unique design offers an easy snap on/off feature for fast device replacement, choice of 8 and 16 I/O module slot configurations, and compatibility with all PR 9000 I.S. modules for industrial signal conditioning and process control.
Robust - vibration and shock tested
The PR backplane is vibration and shock tested according to IEC 61132-2 and approved for zone 2 applications.
Variety of mounting options
The backplane can be installed on DIN rail, on wall/plate - horizontally or vertically – thereby providing the user with a variety of mounting options.
Advice and guidance
Customers who need advice or sparring in relation to backplane or intrinsically safe solutions are welcome to contact PR's highly educated ATEX specialists - located in countries where PR electronics is represented. The specialists offer advice and guidance on how to choose the correct I.S. isolation barriers and interfaces for a specific application. More information at prelectronics.com/isinterfaces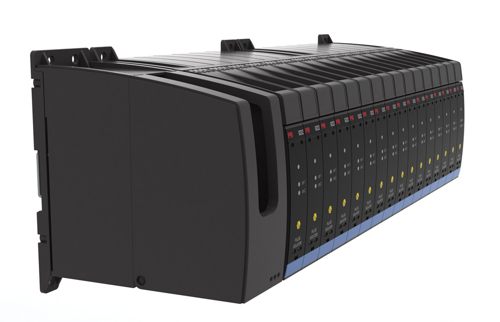 Caption: The new PR backplane offers 8 and 16 I/O module slot configurations – here the 16 module.
###
About PR electronics
PR electronics is the leading technology company specialized in making industrial process control safer, more reliable and more efficient. Since 1974, PR has been dedicated to perfecting its core competence of innovating high precision technology with low power consumption. This dedication continues to set new standards for products communicating, monitoring and connecting our customers' process measurement points to their process control systems.
PR electronics has special expertise within functional safety and I.S. interfaces - and has highly educated ATEX specialists in the countries where PR electronics is represented. These specialists provide guidance to PR electronics customers, sales, and support teams in these areas, helping them choose the correct I.S. isolation barriers and interfaces for their application.
PR's innovative, patented technologies are derived from the company's extensive R&D facilities and from having a great understanding of its' customers' needs and processes. PR electronics is guided by principles of simplicity, focus, courage and excellence, enabling some of the world's greatest companies to achieve PERFORMANCE MADE SMARTER.
Find PR electronics on the web: prelectronics.com
Find PR electronics on Facebook: facebook.com/PRelectronics
Find PR electronics on Twitter: @PRelectronics
Follow PR electronics on LinkedIn: linkedin.com/company/pr-electronics-a-s
Media contact
Global Marketing Manager Mizi Rahbek Lauritsen
mlau@prelectronics.com