Additional Ex approvals for PR electronics sensor head-mounted transmitters
Roende, Denmark, 11. April, 2014: The PR 5343 sensor head-mounted 2-wire level transmitter is now released with FM, IECEx and INMETRO approvals, clearing the way for its use in hazardous area applications in the factory and process automation industry in USA, Brazil and a number of other countries.
The 5343 is a sensor head-mounted 2-wire programmable level transmitter with high measurement accuracy suitable for measuring liquid levels in a wide range of industry processes. The transmitter can take in potentiometer signals from reed switch chains, which are used for measuring liquid levels – for instance, in a tank. This application is suitable for almost all liquids as it provides a constant indication of liquid level regardless of the presence of foam or changes in the dielectric number, conductivity, pressure, or temperature.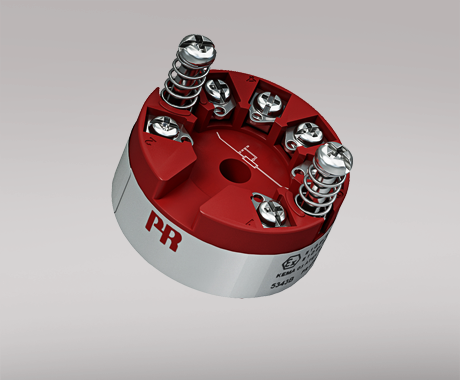 The transmitter is available in two versions: 5343A and 5343B – both ATEX and DNV Marine approved. In addition, the "A" version has received IECEx and INMETRO certification for Zone 2 whereas the "B" version has received both IECEx, INMETRO, and FM certification for Zone 0 / Division 1 installation.

Worldwide support
PR electronics' goal is to offer a complete product range to customers in all parts of the world. In order to do so, the company is continuously working on obtaining relevant localized approvals for all products. In March 2014, the sensor head-mounted 5333A 2-wire temperature transmitter received IECEx and INMETRO certifications in addition to the existing ATEX and DNV Marine approvals. At the same time, the 5333D transmitter received IECEx and INMETRO certification in addition to its existing ATEX, FM, CSA, DNV Marine, and GOST Ex approvals.

With the new approvals, both the level- and temperature transmitters are now available to customers in USA, Brazil and the countries covered by the IECEx, requiring sensor head-mounted transmitters installed in hazardous areas Zone 2 and Zone 0 / Division 1.
Pictures attached:
5343b-tif.tif App. 8 MB. (Caption: The 5343 sensor head-mounted 2-wire level transmitter is now available in USA, Brazil and IECEx countries.)
About PR electronics
Since 1974, PR electronics has specialized in making industrial process control safer, more reliable, and more efficient in order to enable some of the world's greatest companies to achieve PERFORMANCE MADE SMARTER.
With headquarters in Denmark and offices and authorized partners around the world, PR electronics provides signal conditioning solutions and communication interfaces that communicate, monitor, and connect process measurement points to process control systems at process and automation facilities all over the world.
Guided by principles of simplicity, focus, courage, and excellence, PR electronics is dedicated to perfecting the core competence of innovating high-precision technology with low power consumption - a dedication that continues to set new standards for products.
Find out more at www.prelectronics.com.
More information about the transmitters:
5333A:    www.prelectronics.com/products/temperature/5300/2-wire-programmable-transmitter-5333a/
5333D:    www.prelectronics.com/products/temperature/5300/2-wire-programmable-transmitter-5333d/
5343A:    www.prelectronics.com/products/special-devices/5300/2-wire-level-transmitter-5343a/
5343B:    www.prelectronics.com/products/special-devices/5300/2-wire-level-transmitter-5343b/

Media contact 
Members of the media interested in PR electronics' products and company activities are welcome to contact PR electronics' Global Marketing Department.

Contact: Global Marketing Manager Mizi Rahbek Lauritsen - mlau@prelectronics.com

Journalists with short deadlines are advised to contact us by phone - +45 8637 2677