PR electronics launches Spanish, Italian, and Swedish versions of the global website
Ronde, DK, December 20, 2013 - PR electronics today launched Spanish, Italian, and Swedish language versions of the newly re-designed www.prelectronics.com, thereby further strengthening the company's global web presence.
The sites are accessed via drop-down tab at the top of the prelectronics.com homepage – or directly via www.prelectronics.com/es, www.prelectronics.com/it or www.prelectronics.com/se. The sites welcome visitors with a clean and intuitive interface layout and a rotating carousel of vibrant images that links directly to key pages on the site. The navigation menu offers product browsing by product pillar or by industry as well as an extensive Download section. The sites also links visitors to all of PR electronics' other websites and social media channels.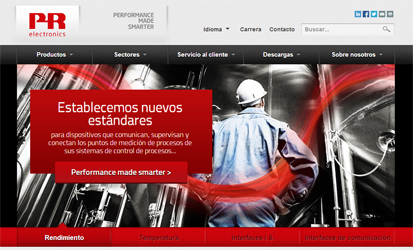 About PR electronics
PR electronics is the leading technology company specialized in making industrial process control safer, more reliable and more efficient. Since 1974, we have been dedicated to perfecting our core competence of innovating high precision technology with low power consumption. This dedication continues to set new standards for products communicating, monitoring and connecting our customers' process measurement points to their process control systems.