Going green with offshore wind power
PR electronics A/S is committed to reducing our environmental impacts and as part of this commitment we have entered a Partnership with Orsted with the purpose of covering all electricity needs through offshore wind power.
At PR electronics' offices and production facilities in Roende, Denmark, the electricity consumption is one of the biggest impacts the company has on the environment. Therefore, it has been a priority to find a solution for balancing the company's needs with the wish to act environmentally responsible.
Many small initiatives are already being worked with, such as replacing lightbulbs with LED lighting, as well as continuously getting better at turning off devices that are not needed. However, as the buildings are also mainly heated through electricity, and as it is neither environmentally nor financially feasible to implement an entirely new system, these smaller initiatives were not enough.
Therefore, PR electronics has decided to start investing in Danish offshore wind energy. Starting in 2017, the investment gradually increased every year until 2019. This resulted in 100% of the company's annual electricity consumption being covered by wind energy. Besides supporting the transformation to green energy, PR electronics' CO2 emissions have also been significantly reduced  and a big step towards CO2 neutrality has been taken. We have now extended the investment to include the forthcoming year's electricity consumptions as well.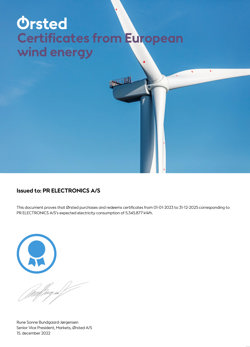 Reuse and recycling are also on the agenda
However, PR electronics does not only seek improvements, when it comes to energy consumption. There is also focus on minimizing food waste in the company's cafeteria. As a result, we have on a 3-year basis reduced our food waste by 25%, and 100% of our food waste is recycled by DAKA ReFood for the production of biogas, biodiesel, and organic fertilizer. 
Additionally, by implementing a waste sorting and reporting system, we have achieved and maintain an overall waste recycling and reuse rate of 60% for the past three years.
Also interesting: