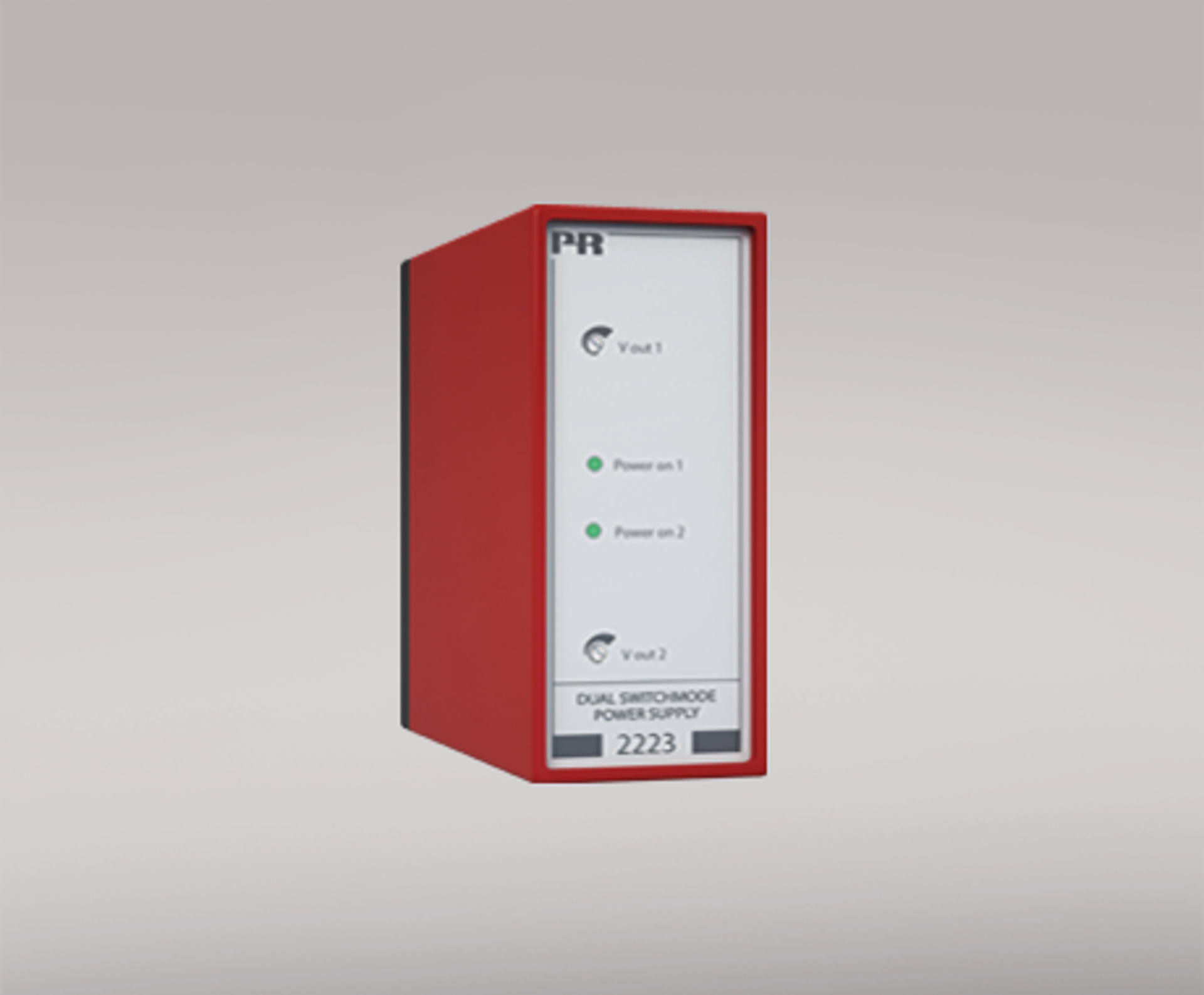 Dobbelt switchmode spændingsforsyning
2223
Forsyningsspænding: 24 / 115 / 230 VAC

Isolation 3,75 kVAC

2 justerbare udgange 5...24 VDC

Udgang: ±5...24 VDC, 10...48 VDC

Kortslutningssikret

Termisk beskyttet mod overbelastning
---
Avancerede features
2223 er baseret på switchmode teknologi for at opnå justerbar udgang med minimum effekttab.
Udgangene er justerbare fra 2 potentiometre i fronten i området 5...24 VDC.
Anvendelse
Forsyning af mindre målesystemer, som kræver 2 stabiliserede spændinger.
Det kan være en kombination af positive og negative spændinger eller 2 adskilte forsyninger efter behov.
De to forsyninger er galvanisk adskilte med en testspænding på 500 VAC og kan serieforbindes eller benyttes som 2 uafhængige forsyninger med eller uden fælles gnd. 
Separation af strømkredse i sikkerhedsinstallationer efter PELV/SELV normen.
Galvanisk isolation mellem primær- og sekundærspændingen opnås gennem den dobbeltisolerede sikkerhedstransformator.
Teknisk karakteristik
To grønne lysdioder, Power ON 1 og Power ON 2, indikerer aktive udgange.
Ved at seriekoble de to udgange opnås 10...48 VDC eller ±5...24 VDC.
Indgangskredsløbet er beskyttet med en bimetalsikring.
DC-udgangen er kortslutningssikret af et elektronisk strømbegrænsningskredsløb.
Montering i standard 11-polet relæsokkel, PR nr. 7023, der kan installeres på DIN-skinne eller direkte på bundplade. Relæsoklen kan kodes vha. kodering, PR nr. 7024.
Omgivelsesbetingelser
| | |
| --- | --- |
| Driftstemperatur | -20°C til +60°C |
| Relativ fugtighed | < 95% RF (ikke-kond.) |
| Kapslingsklasse | IP30 |
Mekaniske specifikationer
| | |
| --- | --- |
| Dimensioner (HxBxD) | 80,5 x 35,5 x 84,5 mm (D er ekskl. ben) |
| Vægt, ca. | 400 g |
Fælles specifikationer
Forsyning

Internt effekttab

4 W

Isolationsspænding

Isolationsspænding, test / drift

3,75 kVAC / 250 VAC

Isolation udgang 1 / 2, test / drift

500 VAC / 50 VAC (75 VDC)

PELV/SELV

IEC 61140

Virkning af forsyningsspændingsændring

< ±30 mV (±10%)

Transformer

EN 60742

Transient stabilitet (10%-max. belast)

< 250 mV

Temperaturkoefficient

0,05% / °C

EMC-immunitetspåvirkning

< ±0,5%
Indgangspecifikationer
Forsyningsspænding

21,6...26,4 VAC 103,5...126,5 VAC
207...253 VAC


Frekvens

50...60 Hz
Udgangspecifikationer
Strømudgang

Strømbegrænsning

Typ. 100 mA (kortslutning)

Udgangsspænding

4,75...25,2 VDC

Udgangseffekt

Max. 7,5 W (total)

Udgangsstrøm, pr. kanal

0,5 A / 5 VDC (2,5 W) 0,37 A / 12 VDC (4,5 W)
0,30 A / 15 VDC (4,5 W)
0,18 A / 24 VDC (4,3 W)


Belastningseffekt (10%-max. belastning)

< 1,5% / A

Udgangsripple

< 20 mVRMS
Overholdte myndighedskrav
| | |
| --- | --- |
| EMC | 2014/30/EU |
| LVD | 2014/35/EU |
| RoHS | 2011/65/EU |
| EAC | TR-CU 020/2011 |
| EAC LVD | TR-CU 004/2011 |