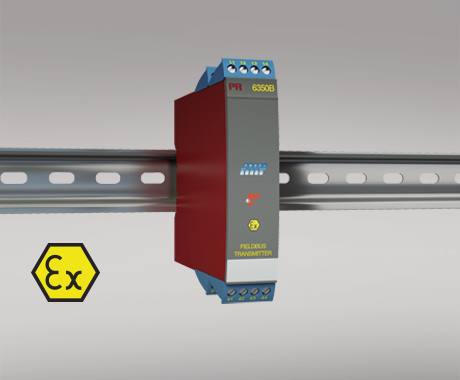 6350B
Profibus PA / Foundation Fieldbus transmitter
Profibus PA ver. 3.0

Foundation Fieldbus ver. ITK 4.6

Automatisk switchfunktion

FISCO-certificeret

Basic eller LAS funktionaliltet med F.F.
---
Anvendelse
Temperaturlineariseret måling med RTD- eller termoelementføler.
Konverterer analoge mA-signaler til digitalværdier på buskommunikationen.
Differens-, redundans- eller gennemsnitstemperaturmåling med RTD- eller termoelementføler.
Lineær modstand, potentiometer og bipolar mV-måling.
Teknisk karakteristik
Bustransmitter med både PROFIBUS PA og FOUNDATION™ Fieldbus kommunikation. En unik switchfunktion vælger automatisk kommunikationsprotokollen.
Opsætning til PROFIBUS PA kan ske via Siemens Simatic® PDM®, ABB Melody / Harmony and Metso DNA software og til FOUNDATION Fieldbus via Emerson DeltaV, Yokogawa CS 1000 / CS 3000, ABB Melody / Harmony and Honeywell Experion software.
Indbygget "simulation mode"-funktion.
Polaritetsuafhængig bustilslutning.
24 bit A/D konverter sikrer høj opløsning.
PROFIBUS PA funktionsblokke:
2 analoge.
FOUNDATION Fieldbus funktionsblokke:
2 analoge and 1 PID.
FOUNDATION Fieldbus funktionalitet:
Basic eller LAS.
Montage / installation
Monteres på DIN-skinne, vertikalt eller horisontalt. Med 2-kanals versionen kan der installeres 84 kanaler pr. meter.
Omgivelsesbetingelser
| | |
| --- | --- |
| Driftstemperatur | -40°C til +85°C |
| Lagringstemperatur | -40°C til +85°C |
| Kalibreringstemperatur | 20...28°C |
| Relativ fugtighed | < 95% RF (ikke-kond.) |
| Kapslingsklasse | IP20 |
Mekaniske specifikationer
| | |
| --- | --- |
| Dimensioner (HxBxD) | 109 x 23,5 x 104 mm |
| Vægt (1 / 2 kanaler) | 145 / 185 g |
| DIN-skinnetype | DIN EN 60715/35 mm |
| Ledningskvadrat | 0,13...2,08 mm2 / AWG 26...14 flerkoret ledning |
| Klemskruetilspændingsmoment | 0,5 Nm |
Fælles specifikationer
Forsyning

Forsyningsspænding

9,0...30 VDC

Effekttab, pr. kanal

< 11 mA

Isolationsspænding

Testspænding

1,5 kVAC i 60 s

Driftsspænding

50 VRMS / 75 VDC

Reaktionstid

Reaktionstid (programmerbar)

1...60 s

Opvarmningstid

30 s

Signal- / støjforhold

Min. 60 dB

Nøjagtighed

Bedre end 0,05% af det valgte område

Opdateringstid

< 400 ms

Eksekveringstid, PID-regulator

< 200 ms

Eksekveringstid, analog indgang

< 50 ms

Signaldynamik, indgang

24 bit

EMC-immunitetspåvirkning

< ±0,1% af visning

Udvidet EMC-immunitet: NAMUR NE21, A-kriterium, gniststøj

< ±1% af visning
Indgangspecifikationer
RTD-indgang

RTD-type

Pt25…1000, Ni25…1000, Cu10…1000, lin. R, potentiometer

Kabelmodstand pr. leder

50 Ω (max.)

Følerstrøm

Nom. 0,2 mA

Virkning af følerkabelmodstand (3- / 4-leder)

< 0,002 Ω / Ω

Følerfejlsdetektering

Ja

Kortslutningsdetektering

< 15 Ω

Lineær modstandsindgang

Lineær modstand min....max.

0 Ω...10000 Ω

Potentiometerindgang

Potentiometer min....max.

10 Ω...100 kΩ

TC-indgang

Termoelement type

B, E, J, K, L, N, R, S, T, U, W3, W5

Koldt loddestedskompensering (CJC)

< ±0,5°C

Følerfejlsdetektering

Ja

Følerfejlsstrøm: Under detektering / ellers

Nom. 2 μA / 0 μA

Kortslutningsdetektering

< 3 mV

Bipolar strømindgang

Måleområde

-100…+100 mA

Indgangsmodstand

10 Ω + PTC < 20 Ω

Kabelbrudsdetektering (4...20 mA)

< 0,3 mA

Bipolar mV-indgang

Måleområde

-800…+800 mV

Min. måleområde (span)

2,5 mV

Indgangsmodstand

10 MΩ

Kortslutningsdetektering

< 3 mV
Udgangspecifikationer
PROFIBUS PA tilslutning

PROFIBUS PA protokol

Profil A&B, ver. 3.0

PROFIBUS PA protokolstandard

EN 50170 vol. 2

PROFIBUS PA adresse (ved levering)

126

PROFIBUS PA funktionsblokke

2 analoge

FOUNDATION Fieldbus tilslutning

FOUNDATION Fieldbus protokol

FF protokol

FOUNDATION Fieldbus protokolstandard

FF designspecifikationer

FOUNDATION Fieldbus version

ITK 4.6

FOUNDATION Fieldbus funktionalitet

Basic eller LAS

FOUNDATION Fieldbus funktionsblokke

2 analoge og 1 PID
Godkendelser
| | |
| --- | --- |
| ATEX | KEMA 03ATEX1012 X |
| IECEx | DEK 14.0071X |
| FM | 3015609 |
| CSA | 1418937 |
| EAC Ex | RU C-DK.GB08.V.00410 |