Cathodic protection
The special module 2284X2D1Hz50 is designed for measurement of the potential between the gas pipes and earth electrodes. The gas pipes are protected against AC corroding by cathodic technology.
It has a suppression filter incorporated to ensure reliable measurement at 50 Hz noise. Both the 50 Hz noise and the AC corrosion comes from electric trains and electric cables. The train is operating with voltages up to
100 VAC where the 2284X2D1Hz50 has an accuracy of 0.2%.
The measurement philosophy:
The pipe installation is connected to a rectifier supplying a voltage in the range of 0...3 V (typically 1 V). Depending on the soil quality a reference value is measured. When corrosion appears, the reference value will change and it is this value that is in focus. If the change is too high there will be an increased corrosion, which must be taken care of before a gas leakage appears.
The set-up with rectifier is a quite common system to protect steel bridges, pipes, etc from corrosion.
Organisation and standards:
The European Gas Research Group (GERG) is a research group focusing on this technology and other technologies in order to prevent gas leakages.
See www.gerg.eu.

The local railway companies are also aware of this technology and have in many countries set up a standard of how to protect gas pipes in close proximity to electric train lines.
 Application: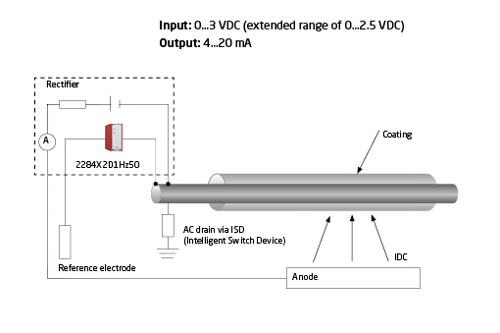 ---
 > Need more information? Please contact us.