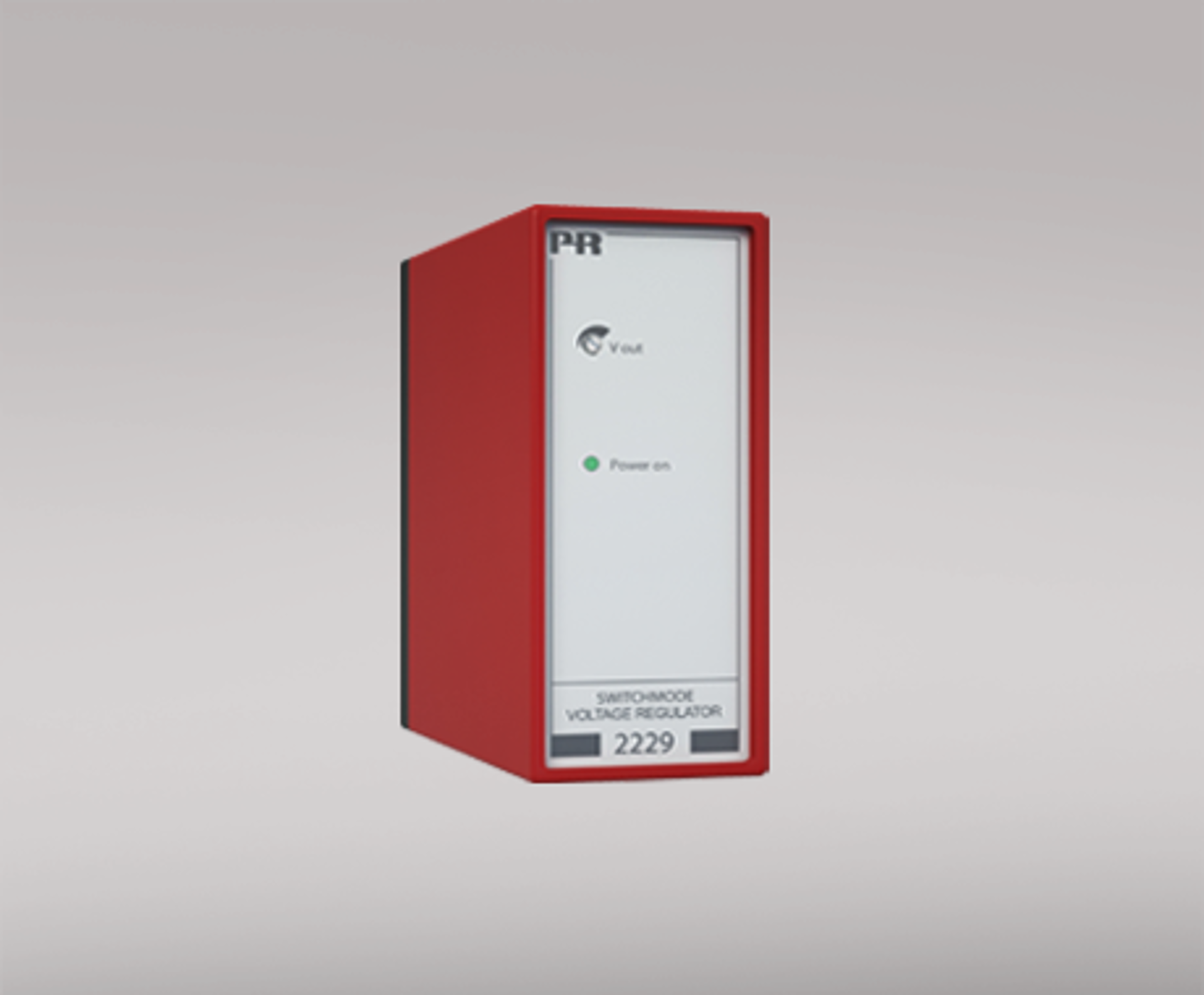 Switchmode voltage regulator
2229
AC/DC input voltage

Adjustable output 5...24 VDC, max. 40 W

Adjustable from external potentiometer

Short-circuit protection

Thermal overload protection

Standard 11-pole relay socket
Advanced features
The regulator is based on primary switchmode technology to achieve a high efficiency.
The outputs are adjustable from a front potentiometer in the range 5...24 VDC or from an external potentiometer.
Application
General voltage regulator for external transformer used in connection with measurement systems requiring fixed stabilized 24 VDC.
Supply for any other sensors, transmitters or a general variable voltage regulator in the range 5...24 VDC.
Used as a power efficient pre-regulator for 5 VDC linear regulator (e.g. from 32 V to 8 V).
Used as adjustable power supply controlled from external potentiometer.
Technical characteristics
A green LED indicates active output.
AC or DC input voltages.
A rectifier bridge allows free choice of polarity for the DC input.
Mounting for a standard 11-pole socket which can be adapted for DIN rail or plate use with PR's 7023 adaptor and 7024 mounting keying.
Data sheet & Manuals
---
Data sheet
---
Manuals
Previous versions
Latest version
Supplementary documentation
---
EU Declaration of Conformity
Previous versions
Latest version
Safety note
---
Safety note
Previous versions
Latest version
Approvals & Certificates
---
EAC declaration
---
Metrology Pattern Approval (MPA), Russia
Environmental Conditions
| | |
| --- | --- |
| Operating temperature | -20°C to +60°C |
| Relative humidity | < 95% RH (non-cond.) |
| Protection degree | IP30 |
Mechanical specifications
| | |
| --- | --- |
| Dimensions (HxWxD) | 80.5 x 35.5 x 84.5 mm (D is without pins) |
| Weight approx. | 170 g |
Common specifications
Supply

Internal power dissipation

10 W

Transient stability (10%-max. load)

< 250 mV

Temperature coefficient

0.05% / °C

EMC immunity influence

< ±0.5%
Input specifications
| | |
| --- | --- |
| Input voltage (AC) | Max. 28 VAC Min. VAC = ( Vout. + 5 ) / 1.2 |
| Input voltage (DC) | Max. 40 VDC Min. VDC = ( Vout. + 5) |
| Frequency | 50...60 Hz |
Output specifications
Current output

Current limit

Typ. 5.8 A (short circuit)

Output voltage

4.5...26.4 VDC

Output power

Max. 40 W

Output current

Max. 2.5 A / 5 VDC Max. 2.5 A / 12 VDC
Max. 2.5 A / 15 VDC
Max. 1.7 A / 24 VDC


Load effect, (0-max. load)

< 1.5% / A

Output ripple

< 20 mVRMS
Observed authority requirements
| | |
| --- | --- |
| EMC | 2014/30/EU |
| RoHS | 2011/65/EU |
| EAC | TR-CU 020/2011 |
Need support to select the right product for your application?
Our sales engineers are ready to help specify the right device to meet your needs.
Reach out by phone to get in touch with us straight away – or use the contact form or quick quote function to send your RFQ directly from the website. You'll get a response within 24 hours on normal business days.
You can expect to get a confirmed delivery date via email within 2 days after we have received your order.
As soon as your package leaves our warehouse, you'll receive tracking details via email. And if you have any questions along the way we're just a phone call or email away.
State-of-the-art manufacturing

Our 8,500 sqm integrated and automated manufacturing campus in Denmark covers the entire value-chain from design and development to manufacturing. It allows us to design and optimize for testing and manufacturing thereby constantly driving quality up and costs down.
Dedicated Presale / Aftersales
Our more than 80 dedicated sales engineers can help specify the right device for your application. Backed by our 9 subsidiaries and more than 40 dedicated partners, we are directly accessible in more than 40 countries around the world.

 
Product reliability
Although we'd always like to be top of mind, we recognize our job is mainly to provide peace of mind. Install & Forget® is our way of saying that once installed, our devices will continue to perform even in the toughest environments. And we are not afraid to back that statement up with commitments.
Product deployment
Our devices are intuitive and simple to configure. Once installed they visualize rich diagnostics data, allowing the operator to plan preventative maintenance, maximizing process up-time.

 
Smart products
Many of our devices are designed to accommodate current and future communication enablers, providing the operator with multifunctional capabilities that extends into the future.

 

Check out our range of communication interfaces