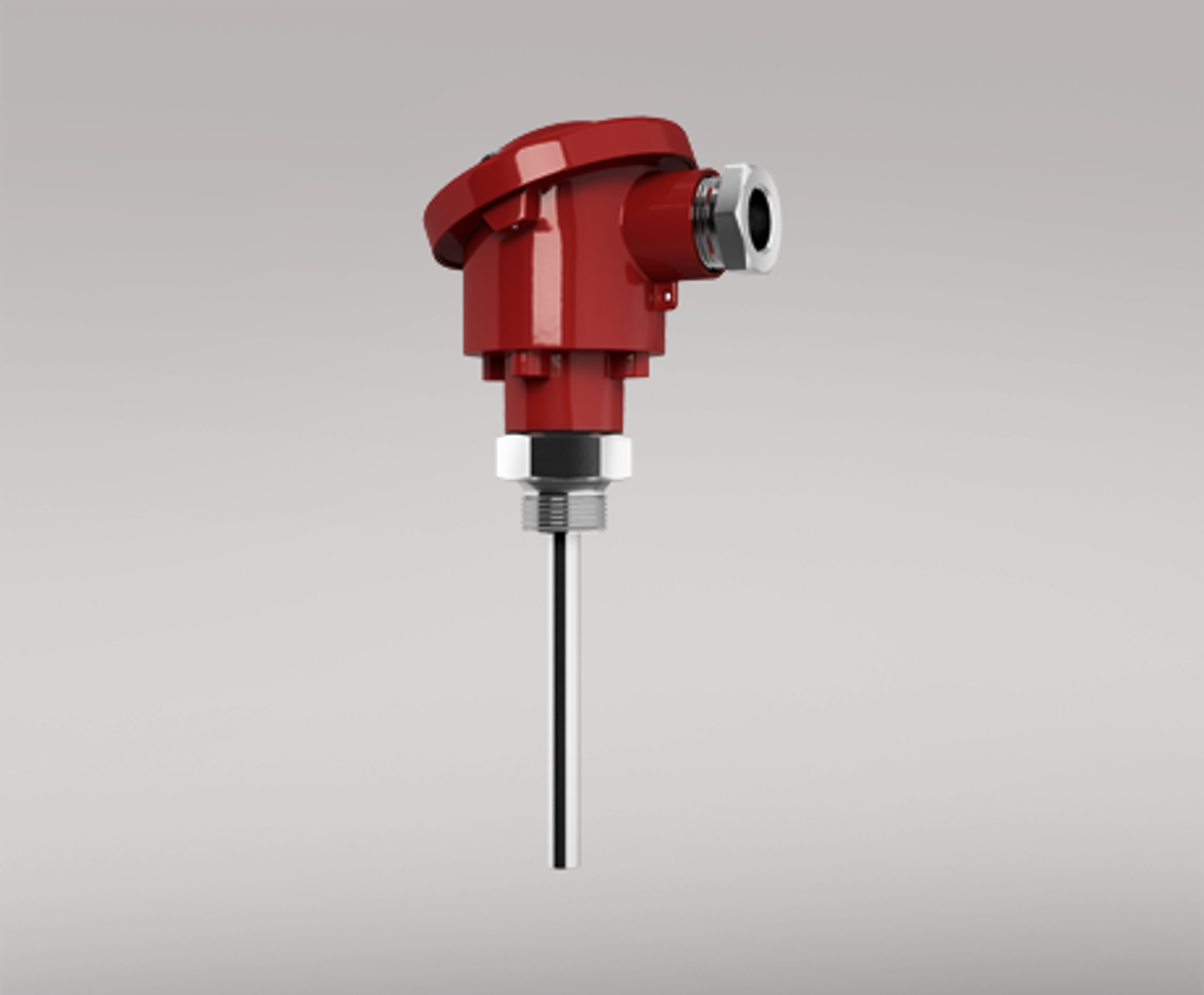 Pt100 temperature sensor
7400
Accuracy, IEC 60751 class A

Terminal head DIN 43729 form B

1/2" RG connection

Stainless, acid-proof steel

Protection tube Ø 9 x 1 mm

Temperature range -50°C to +400°C
---
Application
Temperature measurement in industrial systems, eg. in the food, chemical and pharmaceutical industries, cold storage plants, district heating, power plants, refineries and ships.
Temperature measurement in gas and floating media.
Technical characteristics
The 7400 comes with a fixed measurement insert.
The sensor element is a thin film platinum resistor - Pt100 - trimmed at a laboratory to comply with the resistance values of the standard IEC 60751, class A. The advantage of a thin film element is an ultra short reaction time. The Pt100 element is electrically isolated from the protecting tube and terminal head.
The protecting tube is Ø 9 x 1 mm stainless, acid-proof steel W no. 1.4571 / AISI 316TI, filled with aluminum oxide powder. A 1/2" RG thread nipple is welded on the protecting tube with a packing sheet of Ø 30 and span 30.
The terminal head is a standard DIN 43729 form B housing produced in light-alloy metal, protected against corrosion through strong industrial lacquering.
The sensor is available with or without cooling extension to keep the terminal head clear of isolated surfaces.
Electrical connection
Each sensor is delivered with a three-wire connection which allows cable compensation to the sensor element.
Option
Pt100 sensor type 7400 is available with a built-in ceramic socket (item no. 7423) or with a built-in 2-wire programmable transmitter for both standard and I.S. installations.
Lisädokumentteja
---
EU-vaatimustenmukaisuusvakuutus
Aikaisempi versio
Viimeisin versko
Environmental Conditions
Mechanical specifications
| | |
| --- | --- |
| Maks. tightening torque | 50 Nm |
| Packing surface | Ø 30 x Ø 21.5 |
| Max. pressure for insertion length > 250 mm | 22.5 bar |
| Cable connection (screwed) | M20 x 1.5 |
| Width of flats | 30 |
Common specifications
| | |
| --- | --- |
| Recommended sensor current | ≤ 2 mA |
| Max. temperature diffusion at 0°C: IEC 60751 class A | ≤ ±0.15°C |
| Typical reaction time: water with flow 0.2 m/s | t0.5 after 20 s / t0.9 after 28 s |
| Typical reaction time: air with flow 1 m/s | t0.5 after 60 s / t0.9 after 180 s |