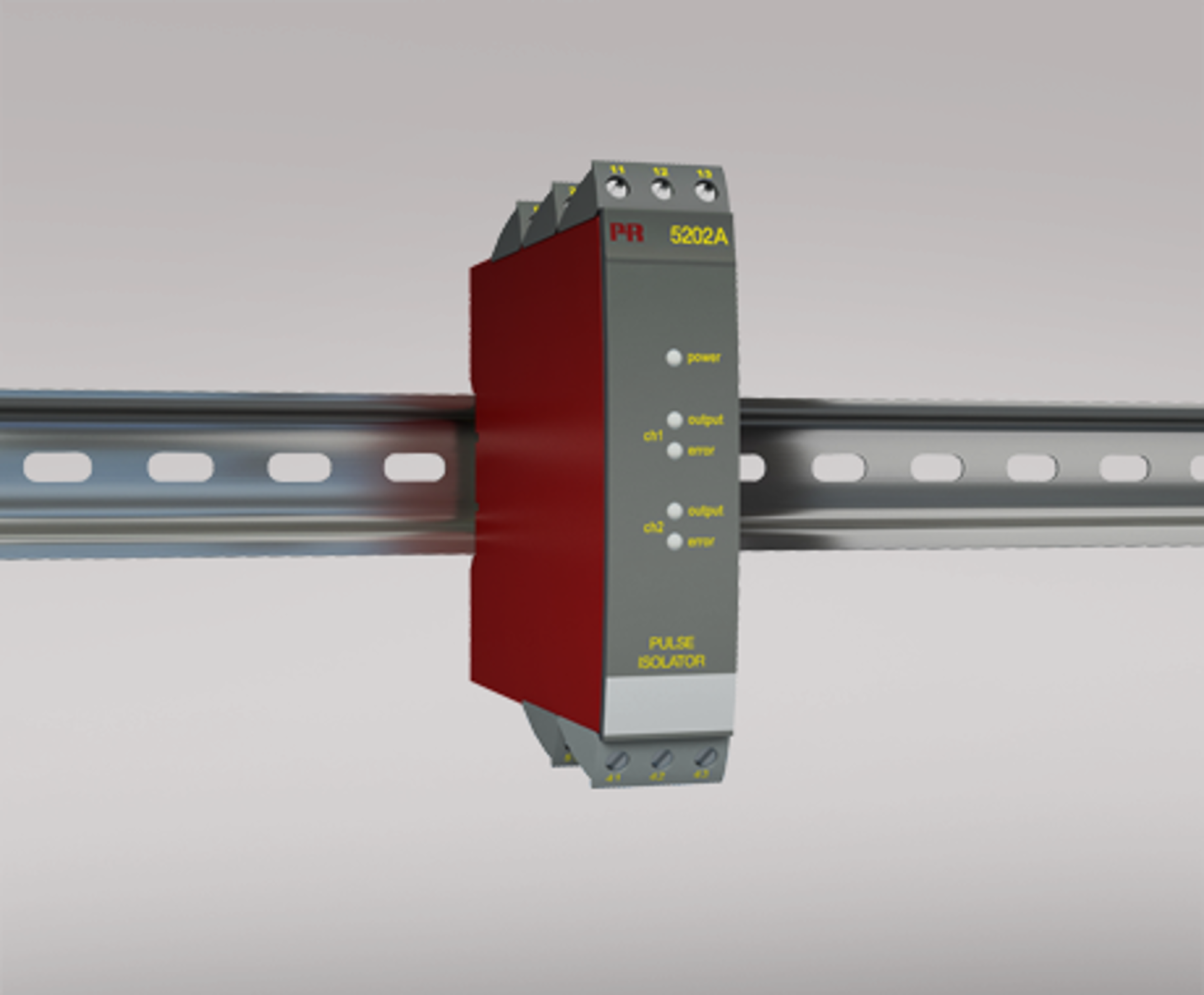 Impulsisolator
5202A
2 kanaler - 2 eller 4 udgange

Dublering af udgangssignal

5-port 3,75 kVAC galvanisk isolation

Detektering af kabelfejl

Universel forsyning med AC eller DC
---
Anvendelse
Impulsisolator til forsyning af NAMUR-følere.
Impulsisolator til detektering af mekaniske kontakter.
Et indgangssignal kan anvendes på to separate udgange.
En alarm for kabelfejl kan detekteres på en separat udgang.
Teknisk karakteristik
PR5202A1 og -A2 har relæer med skiftekontakter eller åbne kollektorer, NPN.
PR5202A4 har 4 SPST relæer, der aktiveres to og to samtidigt. Hvert enkelt relæ kan programmeres til funktionen N.O. eller N.C.
Indgange, udgange og forsyning er indbyrdes galvanisk adskilte og ikke stelbundne.
5202 er konstrueret med et højt sikkerhedsniveau, så den er anvendelig i SIL 2 installationer.
Montage / installation
Monteres på DIN-skinne, vertikalt eller horisontalt. Der kan installeres 84 kanaler pr. meter.
Omgivelsesbetingelser
| | |
| --- | --- |
| Driftstemperatur | -20°C til +60°C |
| Kalibreringstemperatur | 20...28°C |
| Relativ fugtighed | < 95% RF (ikke-kond.) |
| Kapslingsklasse | IP20 |
Mekaniske specifikationer
| | |
| --- | --- |
| Dimensioner (HxBxD) | 109 x 23,5 x 130 mm |
| Vægt, ca. | 230 g |
| Ledningskvadrat | 1 x 2,5 mm2 flerkoret ledning |
| Klemskruetilspændingsmoment | 0,5 Nm |
Fælles specifikationer
Forsyning

Forsyningsspænding, universel

21,6...253 VAC, 50...60 Hz eller 19,2...300 VDC

Sikring

400 mA T / 250 VAC

Internt effekttab

≤ 1,5 W (2 kanaler), 5202A1 og 5202A2 ≤ 2,0 W (2 kanaler), 5202A4


Max. forbrug

≤ 1,5 W (2 kanaler), 5202A1 og 5202A2 ≤ 2,0 W (2 kanaler), 5202A4


Isolationsspænding

Isolationsspænding, test / drift

3,75 kVAC / 250 VAC

PELV/SELV

IEC 61140

Hjælpespændinger

NAMUR-forsyning

8 VDC / 8 mA

EMC-immunitetspåvirkning

< ±0,5%

Udvidet EMC-immunitet: NAMUR NE21, A-kriterium, gniststøj

< ±1%
Indgangspecifikationer
| | |
| --- | --- |
| Følertyper | NAMUR i henhold til EN 60947-5-6 / mekanisk kontakt |
| Frekvensområde | 0...5 kHz |
| Impulslængde | > 0,1 ms |
| Indgangsmodstand | 1 kΩ |
| Trig-niveau, signal | < 1,2 mA, > 2,1 mA |
| Trig-niveau, kabelfejl | < 0,1 mA, > 6,5 mA |
Udgangspecifikationer
Relæudgang

Max. frekvens

20 Hz

Max. spænding

250 VRMS

Max. strøm

2 AAC

Max. AC-effekt

100 VA

Max. strøm ved 24 VDC

1 A

NPN-udgang

Max. frekvens

5 kHz

Min. impulslængde

> 0,1 ms

Max. belastning, strøm / spænding

80 mA / 30 VDC

Spændingsdrop ved 25 mA / 80 mA

< 0,75 VDC / < 2,5 VDC
Overholdte myndighedskrav
| | |
| --- | --- |
| EMC | 2014/30/EU |
| LVD | 2014/35/EU |
| EAC | TR-CU 020/2011 |
Godkendelser