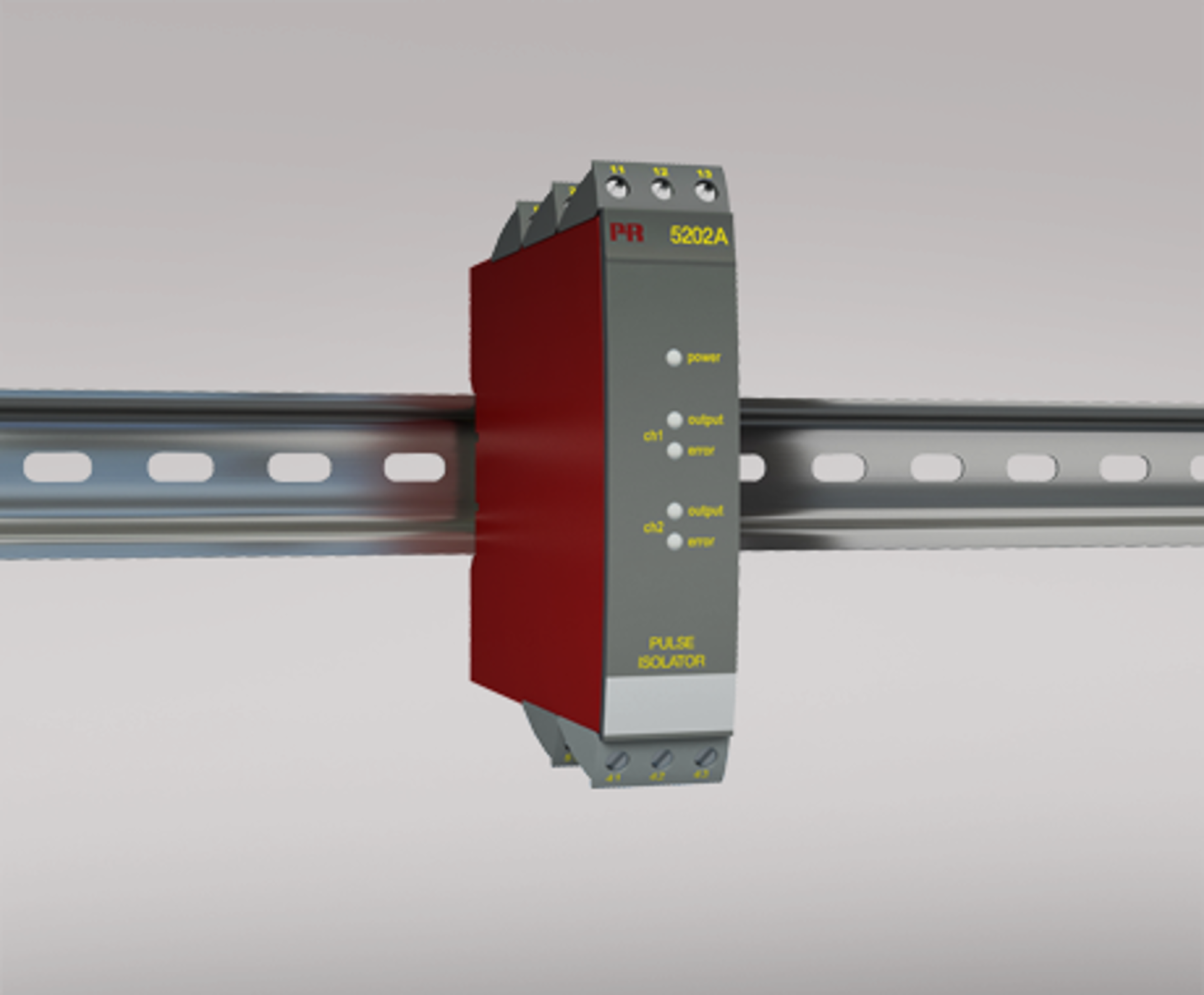 Pulse isolator
5202A
2 channels - 2 or 4 outputs

Dual output

5-port 3.75 kVAC galvanic isolation

Cable error detection

Universal supply by AC or DC
---
Application
Pulse isolator for the supply of NAMUR sensors.
Pulse isolator for the detection of mechanical contacts.
One input signal can be used on two separate outputs.
A cable error alarm can be detected on a separate output.
Technical characteristics
PR5202A1 and 5202A2 have relays with change-over contacts or open NPN collectors.
PR5202A4 has 4 SPST relays, which are activated simultaneously two and two. Each relay can be programmed to the function N.O. or N.C.
Inputs, outputs and supply are floating and galvanically separated.
5202 is designed according to strict safety requirements and is therefore suitable for application in SIL 2 installations. 
Mounting / installation
Mounted vertically or horizontally on a DIN rail. Up to 84 channels per meter can be mounted.
Environmental Conditions
| | |
| --- | --- |
| Operating temperature | -20°C to +60°C |
| Calibration temperature | 20...28°C |
| Relative humidity | < 95% RH (non-cond.) |
| Protection degree | IP20 |
Mechanical specifications
| | |
| --- | --- |
| Dimensions (HxWxD) | 109 x 23.5 x 130 mm |
| Weight approx. | 230 g |
| Wire size | 1 x 2.5 mm2 stranded wire |
| Screw terminal torque | 0.5 Nm |
Common specifications
Supply

Supply voltage, universal

21.6...253 VAC, 50...60 Hz or 19.2...300 VDC

Fuse

400 mA SB / 250 VAC

Internal power dissipation

≤ 1.5 W (2 channels), 5202A1 and 5202A2 ≤ 2.0 W (2 channels), 5202A4


Max. required power

≤ 1.5 W (2 channels), 5202A1 and 5202A2 ≤ 2.0 W (2 channels), 5202A4


Isolation voltage

Isolation voltage, test / working

3.75 kVAC / 250 VAC

PELV/SELV

IEC 61140

Auxiliary supplies

NAMUR supply

8 VDC / 8 mA

EMC immunity influence

< ±0.5%

Extended EMC immunity: NAMUR NE21, A criterion, burst

< ±1%
Input specifications
| | |
| --- | --- |
| Sensor types | NAMUR according to EN 60947-5-6 / mechanical contact |
| Frequency range | 0...5 kHz |
| Pulse length | > 0.1 ms |
| Input resistance | 1 kΩ |
| Trig level, signal | < 1.2 mA, > 2.1 mA |
| Trig level, cable fault | < 0.1 mA, > 6.5 mA |
Output specifications
Relay output

Max. switching frequency

20 Hz

Max. voltage

250 VRMS

Max. current

2 AAC

Max. AC power

100 VA

Max. load at 24 VDC

1 A

NPN outputs

Max. switching frequency

5 kHz

Min. pulse length

> 0.1 ms

Max. load, current / voltage

80 mA / 30 VDC

Voltage drop at 25 mA / 80 mA

< 0.75 VDC / < 2.5 VDC
Observed authority requirements
| | |
| --- | --- |
| EMC | 2014/30/EU |
| LVD | 2014/35/EU |
| EAC | TR-CU 020/2011 |
Approvals