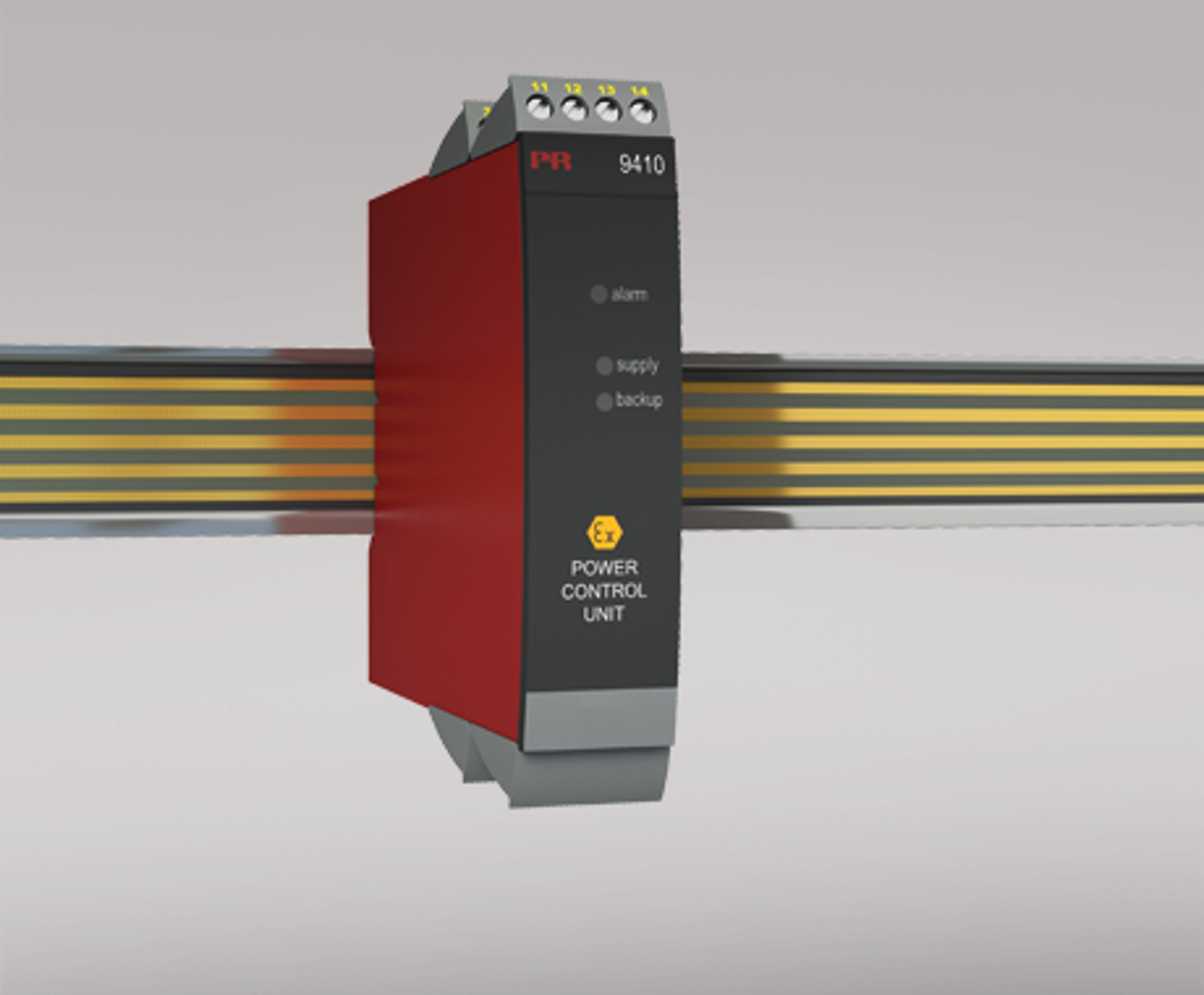 Power control unit
9410
Distribuerer forsyningsspænding til power rail

Mulighed for tilslutning af backupforsyning

Godkendt til installation i Ex-zone 2 /Div. 2

Mulighed for redundant forsyning til power rail

Skal installeres på power rail, PR type 9400
---
Anvendelse og avancerede features
9410 detekterer fejl fra modulerne på power railen og sender en kollektiv alarm til styresystemet via det interne statusrelæ.
Mulighed for tilslutning af to forsyningsspændinger, en primærforsyning og en backupforsyning.
Redundant forsyning til power railen kan opnås ved at montere to stk. 9410, der forsynes fra to separate spændingsforsyninger (f.eks. PR nr. 9421).
Teknisk karakteristik
Statusrelæet er trukket, når følgende tre betingelser er opfyldt:
1. Der er forsyningsspænding på klemme 31 og 32.
2. Der er backup-forsyningsspænding på klemme 34 og 33. (Hvis backup-forsyningen ikke benyttes, skal der placeres en lus mellem klemme 32 og 33 - lusen leveres med modulet).
3. Ingen af de tilsluttede moduler på power railen melder fejl.
Når en kollektiv alarm meldes via power railen, vil statusrelæet i 9410 blive sluppet (klemme 11, 12 og 13).
To grønne LEDs i front indikerer, at forsyning og backup er tilsluttet.
En rød LED indikerer fejlstatus.
Omgivelsesbetingelser
| | |
| --- | --- |
| Driftstemperatur | -20°C til +60°C |
| Lagringstemperatur | -20°C til +85°C |
| Relativ fugtighed | < 95% RF (ikke-kond.) |
| Kapslingsklasse | IP20 |
| Installation i | Forureningsgrad 2 & måle- / overspændingskat. II |
Mekaniske specifikationer
| | |
| --- | --- |
| Dimensioner (HxBxD) | 109 x 23,5 x 104 mm |
| Vægt, ca. | 140 g |
| DIN-skinnetype | DIN EN 60715/35 mm |
| Ledningskvadrat | 0,13...2,08 mm2 / AWG 26...14 flerkoret ledning |
| Klemskruetilspændingsmoment | 0,5 Nm |
| Vibration | IEC 60068-2-6 |
| 2...13,2 Hz | ±1 mm |
| 13,2...100 Hz | ±0,7 g |
Fælles specifikationer
Forsyning

Max. forbrug

96 W

Internt effekttab

2 W (max.)

Virkningsgrad

> 97,9%
Indgangspecifikationer
| | |
| --- | --- |
| Forsyningsspænding | 21,6...26,4 VDC (dobbelt / forstærket isolation) |
| Backup-forsyning | 21,6...26,4 VDC |
Udgangspecifikationer
Statusrelæ

Max. spænding

250 / 30 VDC

Max. strøm

2 AAC / 2 ADC

Max. AC-effekt

500 VA / 60 W

Udgangsspænding

Indgangspænding-0,5 VDC (ved 4 A)

Udgangseffekt

96 W (max.)

Udgangsstrøm

4 A (max.)

Udgangsripple

Samme som indgang
Overholdte myndighedskrav
| | |
| --- | --- |
| EMC | 2014/30/EU |
| LVD | 2014/35/EU |
| ATEX | 2014/34/EU |
| RoHS | 2011/65/EU |
| EAC | TR-CU 020/2011 |
| EAC Ex | TR-CU 012/2011 |
| EAC LVD | TR-CU 004/2011 |
Godkendelser
| | |
| --- | --- |
| ATEX | KEMA 07ATEX0152 X |
| IECEx | KEM 08.0025X |
| c FM us | FM19US0056X /FM19CA0029X |
| INMETRO | DEKRA 16.0007 X |
| c UL us, UL 61010-1 | E314307 |
| c UL us, UL 913 | E233311 (kun 9410-U9) |
| CCC | 2020322303003230 |
| EAC Ex | RU C-DK.HA65.B.00355/19 |
| DNV Marine | TAA00000JD |
| ClassNK | TA18527M |