PR electronics device data in EPLAN
Are you an EPLAN user? Benefit from complete EPLAN datasets for products in the 3000, 4000, 5000, 6000 and 9000 series with DIN rail mounting.
The integration of PR electronics' product data into the EPLAN user interface gives EPLAN users the opportunity to simply drag and drop the required PR electronics product data into their software engineering projects. Latest update enhances meta data to include 3D information to comply with EPLAN eData Standard. You can now utilize advanced features such as EPLAN Pro Panel 3D simulation for space, heat map, routing wires etc.
Follow this link to get access to PR products in the EPLAN solution.
For users without active EPLAN subscription, it is possible to download .edz files here.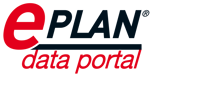 EPLAN Data Portal
Integrated, web-based data platform for provision of EPLAN compatible device data from market-leading component manufacturers for direct use in EPLAN software solutions.
EPLAN Software & Service EPLAN
Software & Service develops CAE solutions and advises companies in the optimisation of their engineering processes. Customers profit from increased efficiency in the product development process through standardised procedures, automated sequences and consistent workflows

> For more information about EPLAN, visit https://www.eplan.de/