High health and safety standards – low incident rate
At PR electronics we have a strong focus on Health and Safety including the well-being of our employees. Our Health & Safety organization consists of both top management as well as employee representatives across the organization.
During the past years, minor accidents without absence have been reduced by more than 50%. This has been achieved by a structured and focused mapping of all Health & Safety related risks, risk reduction activities as well as training and awareness. This is then backed up by a set of clear policies and instructions and a safety inspection every 6th month at our main facilities in Denmark. We also test our emergency preparedness minimum once every 1.5 years.

As part of providing a positive working environment for our employees several things are made available (may vary from country to country):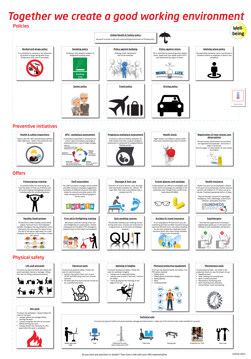 View poster in separate window