Easy-to-use 'request for quotation' form added to prelectronics.com
New feature on PR electronics' website allows visitors to add products to a list and submit it for quotation.
To help make it easier for PR electronics' website visitors to request a products quotation, PR has added a new feature to the website which enables visitors to build and submit a list of products for quotation.
As you browse through PR electronics' product pages, simply click on the red "ASK FOR A QUOTE" button at the top of the individual product pages to add the product to you list.
When you have added all your products to the list (accessible by clicking on the list icon at the top of the page) - you can edit the list, complete your details, and, of course, submit it.
PR electronics' product specialists will review the quote and respond within short time.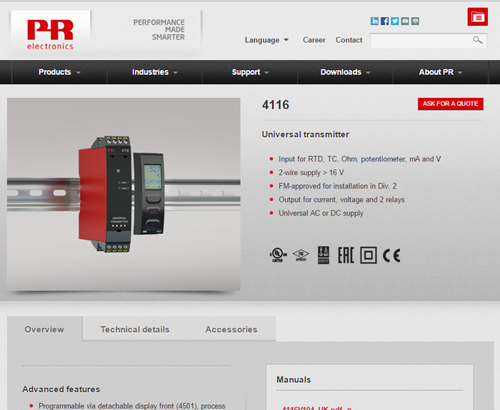 Example of a product page. The red list icon is visible top right.
The feature is intended as an easy-to-use service. Visitors are of course also welcome to contact PR electronics in other ways and, as always, very welcome to ask questions or get sparring about signal conditioning solutions.
> See product pages