180 degrees display rotation feature added to the PR 4511 Communication enabler
Now process industry professionals having a PR 4000/9000 series install base can take advantage of the possibility to mount the 4511 communication enabler upside down.
When 4511 is mounted on devices that are installed upside down, a menu item allows the display on the communication enabler to be rotated 180 degrees. When rotated the up/down buttons will switch function.
"We are of course very pleased to be able to offer our customers this new feature" says Chief Sales Officer at PR electronics Simon Bisbo and continues:
"We have developed the 180 degrees rotation feature based on requests from our customers who have PR 4000 and 9000 devices installed upside down. They can now rotate the display on the 4511 and easily monitor their process data. Or use the 4511 for simulation and device programming", he says and concludes: "The 180 degrees rotation feature provides flexibility - and flexibility of installation and use is one of the key principles when we develop new products and features for our customers."
The 4511 communication enabler is used in a range of industries, including chemical industry, energy and water supply/wastewater, etc.
More about the 4511 communication enabler.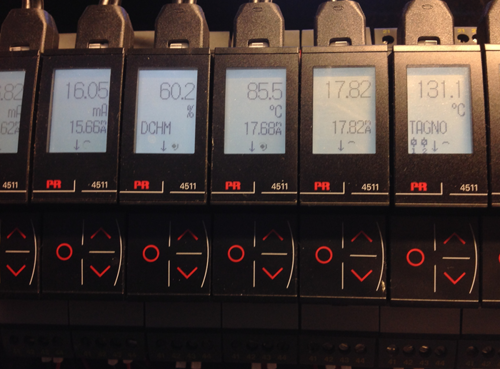 Photo: The PR 4511 communication enabler mounted in its usual position. Now, if mounted upside down (see the photo at the top of the page), the display can be rotated 180 degrees. When rotated the up/down buttons switch function.