Quality, support, and flexibility – Haldor Topsoe's three reasons for working with PR electronics
When it was time to exchange an old panel that controlled a hydrogen compressor at Haldor Topsoe's site in Lyngby, Denmark, Automation Technician Rasmus Mørch decided to go with the PR backplane from PR electronics.
With over 2,700 employees around the globe, Haldor Topsoe is one of the world leaders in catalysis and surface science. Established in 1940, the company quickly found success. Today, Haldor Topsoe delivers a wide range of catalysts and process technology that is essential for producing clean fuels from crude oil and waste, removing harmful emissions from power plants and vehicle exhaust, and raising the efficiency of industrial processes. Haldor Topsoe's catalysts are used in the production of 50% of the world's fertilizers, helping the agriculture industry meet the global demand for food. The company's catalysts, technologies and plant design lie at the heart of the efficient, sustainable production of plastics, fuels, and fertilizers worldwide.
A partnership for better results
Haldor Topsoe and PR electronics have been working together for several years and on a number of different projects – also internationally. In Lyngby, the company has an R&D site where many of Haldor Topsoe's future products start out in pilot plants before moving into large scale production. In his role as Automation Technician, Rasmus Mørch has been in close contact with PR electronics and knows the products well. "There are two things that are important to me, when working with suppliers: quality and support. The barriers from PR electronics really have proven themselves in our facility. They function for a very long time and deliver extremely precise results," he says. "The support team also has been great and easy to reach, whenever we needed them. Additionally, their documentation has a very high standard."
Outstanding quality, service, and flexibility
In 2015, the panel controlling a hydrogen compressor, which delivers hydrogen with high pressure to their R&D site, needed to be exchanged. "We build these panels ourselves, so we saw an advantage in using the PR backplane. It helped us save time on wiring and gave us the option to extend with more modules – something we actually already had to do since installing it last year," says Rasmus Mørch.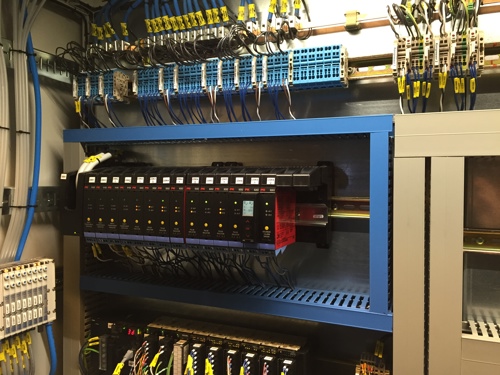 Inside the backplane, three different types of barriers from PR electronics' 9000 series are installed. Nine 9202B pulse isolators for reporting from valves and switches, four 9106B repeaters for signals from flow and pressure transmitters and one 9203B alarm driver.
One particularly positive surprise for Rasmus Mørch was the flexibility that came with the barriers from PR electronics. The possibility to exchange the installation from an active to a passive PLC/DCS is unique. With other barriers that would mean exchanging the barrier completely. With the PR electronics products, however, all it takes is moving one of the cables.
Haldor Topsoe
Products used - examples:

PLC connectivity
In this application the backplane was connected to an Omron PLC. But because of its universality, the backplane can also be connected to any PLC or control system equipped with a screw terminal. A standard cable with Sub-D 37 connector on one end and sleeves on the other, is used to connect the termination board and the I/O card in that case.
Furthermore, dedicated solutions exist for DCS systems, such as Yokogawa or Honeywell, using standard connectivity solutions.
The here described solution is using PR electronics' I.S. barrier program and is available in 3 versions (8 and 16 modules). Both horizontal and vertical panel or wall mounting are possible, as well as installation in Zone 2 or Class 2 / Div 2 areas.
The PR electronics Backplane selection guide can be found at: backplane