New series of 6 mm temperature devices delivers on performance
The compact temperature devices of the PR 3000 series provide high accuracy, fast response time AND low temperature drift – without compromise.
Wide industry application
The 3000 series of temperature transmitters and converters can be used in many factory and process automation industries, including food, pharmaceutical, packaging, automotive, robotics, printing and paper, shipbuilding, water and wastewater, wood, building automation, HVAC, energy and more.
Delivers on performance
The series offers you high accuracy, fast response time AND low temperature drift – without compromise. It simply delivers precise measurement of rapidly changing signals, in any environment.
Compact and reliable
At just 6 mm, the 3000 series includes many advanced features in each compact device. Up to 50 units or 100 channels can be mounted vertically or horizontally on a 30 cm standard DIN rail or power rail with no air gap separation. All of the devices are individually validated to exceed the most demanding failure rate assessments.
DISCOVER THE HART OF A 6 MM DEVICE
Never seen before in a 6 mm device, the HART 7 protocol featured in the 3113 and 3337, gives future temperature applications more design and system flexibility in programming, monitoring and maintenance for both analog and digital signal output.
Complete range
In addition to temperature transmitters and converters, the 3000 series offers a complete range of high performance signal devices for applications in demanding environments.
See devices: 
3101, 3102, 3111, 3112, 3113, 3331, 3333, and 3337.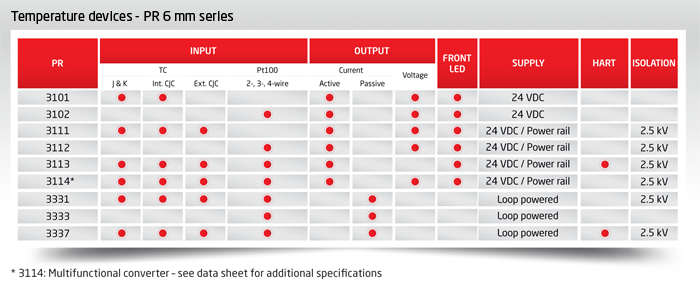 Click to enlarge (opens in a new browser window).
Download the brochure:

Contact us
Want to talk to a specialist about how you can use PR 3000 devices to increase performance and lower cost in your industry process? Don't hesitate to contact us.
CASE STORY - Energy
Danish CHP station Vattenfall/ Fynsvaerket achieved stable temperature signal surveillance in the boiler room – also at 60˚C.
The members of the maintenance team at Fyn Power Station were fed up getting error messages and false system alarms from one of the boiler's temperature surveillance systems. The problem occurred when the ambient temperature approached 60 ˚C. The solution to the problem did not seem straight-forward, but after a talk with one of PR's sales engineers they decided to do a test set-up with PR 3111 isolated TC converters – and that solved the problem … also at 60 ˚C .