The brand-new 4179 Universal AC/DC transmitter – the latest addition to the PR electronics' 4000 series
In all aspects of the design, PR electronics has focused on the multifunctionality of the 4000 series. Therefore, the six product variants cover hundreds of applications, resulting in reduced stock as well as increased flexibility and competitiveness.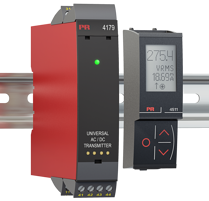 Signal conditioning spare part inventories are a necessary part of running a manufacturing process. Many factory managers want to keep inventories to a minimum. A fast and simple way to achieve this is by deciding on multifunctional transmitters as the site standard. Having one variant that applies to a broad range of signal conditioning applications provides great flexibility in relation to device usage.   
The PR electronics 4000 series (link opens .pdf file) of multifunctional transmitters offer versatile devices for isolation, conversion, scaling, amplification, alarming, control and more. They are used in a wide range of industries such as chemical industry, energy industry, water supply and wastewater, factory automation, cement, etc.
Proud to introduce the newest member of the 4000 series
The 4179 Universal AC/DC transmitter is an ideal addition to PR's multifunctional 4000 series, as it opens up the option for converting AC current or voltage to a DC process signal. This is particularly useful in applications, where there is a need for shunt and motor voltages or current (either directly or with a current transformer or a current clamp) for control and preventative maintenance, monitoring power lines, or a power supply. 
Product features of the PR 4179 include:
Galvanic isolation with high 2.3 kVAC 3-port-isolation, capable of measuring up to 0…5 A RMS and 0…300 V RMS directly
Works at very narrow spans – min. span being 500 mA RMS and 500 mV RMS
Providing amplification of very low level AC signals
It delivers unipolar/bipolar current and voltage output or a passive 2-wire mA output
The module meets the demands from both NAMUR NE21 and NAMUR NE43
It has configurable input limits, controlling the output value for increased safety
Combine it with the PR 4501 or PR 4511
"The unique combination of the PR 4179 with one of our detachable communication interfaces makes it one of the safest modules of its kind, as changes can only be made with an interface. Trouble-shooting is also done fast and easy, as technicians do not need any extra measuring equipment," says Simon Bisbo, Chief Sales Officer at PR electronics. "Additionally, commissioning the devices after installing is possible in an extremely short time, as the communication interfaces are incredibly easy to use. With either of the two interfaces, users can choose from several standard ranges, or alternatively, use the push buttons to match any custom current or voltage input range. No re-calibration is required after selecting the input range." 
The 4501 Display/programming front and the 4511 Communication enabler allow access to your process data. The PR 4501, a local operator interface, provides connectivity on all devices of the 4000 series to locally monitor process values, device configuration and perform signal simulation. The PR 4511 offers the same, as well as easy remote access to process values of all devices of the 4000 series.