Combining functional safety knowledge with ATEX expertise for integrated safety solutions
In order to further expand the application possibilities of their samos®PRO COMPACT safety controller, Wieland Electric GmbH has partnered with PR electronics to help complement their functional safety knowledge and add ATEX expertise.
Wieland Electric, founded in Bamberg in 1910, is the inventor of safe electrical connection technology. Today, the family-owned company is one of the leading suppliers of safety and automation technology and has been the global market leader in the field of pluggable electrical installations for building technology for over 30 years.
The co-operation allows Wieland Electric GmbH to expand their input signal support for the samos®PRO. Adding a selection of PR electronics' fully assessed SIL certified products, with a wide range of I.S. approvals (ATEX/IECEx/FM/UL etc.) means customers can meet the regulations for both functional safety and hazardous area installations.
An example application is the possibility to create Safety Functions up to SIL3 (EN61508) as well as PLe/ Cat. 3/4. In certain cases, differential pressures from a furnace in the glassmaking industry need to be monitored by two different and independent samos®PRO safety PLCs. By using a PR 9106 fully assessed device to split the 4-20 mA signal from a single differential pressure transmitter, a saving can be made for the customer while maintaining the safety integrity of the application.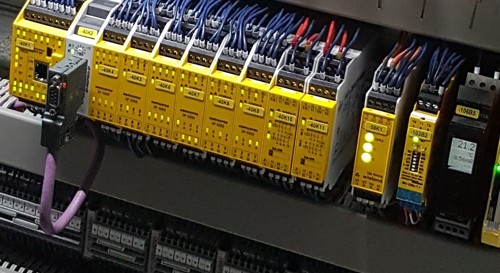 As part of its solutions business, Wieland will offer PR electronics devices together with its safety controller or just a safety relay, for example to be able to operate ATEX applications. The correspondingly certified field devices from PR electronics can convert ATEX signals in such a way that they can communicate with the samos®PRO COMPACT.
"By cooperating with PR electronics, we can offer a complete package for Safe Analog Value Processing and, of course, open up new markets," explains Markus Kick, Global Product & Business Development Manager Safe Analog & Combustion Technology at Wieland Electric.

A further advantage results from the configuration displays of PR electronics, which not only allow process value monitoring via the built-in display, but also data transmission into the Wieland Cloud, Wieland Networking IIoT components and thus online visualization thanks to the PR 4511 Communication enabler with Modbus RTU or latest PR 4512 Bluetooth communication interface.
Joint training and seminars by Wieland and PR electronics will be planned. This will demonstrate to customers the shared knowledge and experience this partnership can now offer to our markets! Through the cooperation we can create endless usability and the biggest value proposition for a customer: unlimited knowledge and experience in machine and process safety!
Wieland Electrics GmbH
Products used - examples: