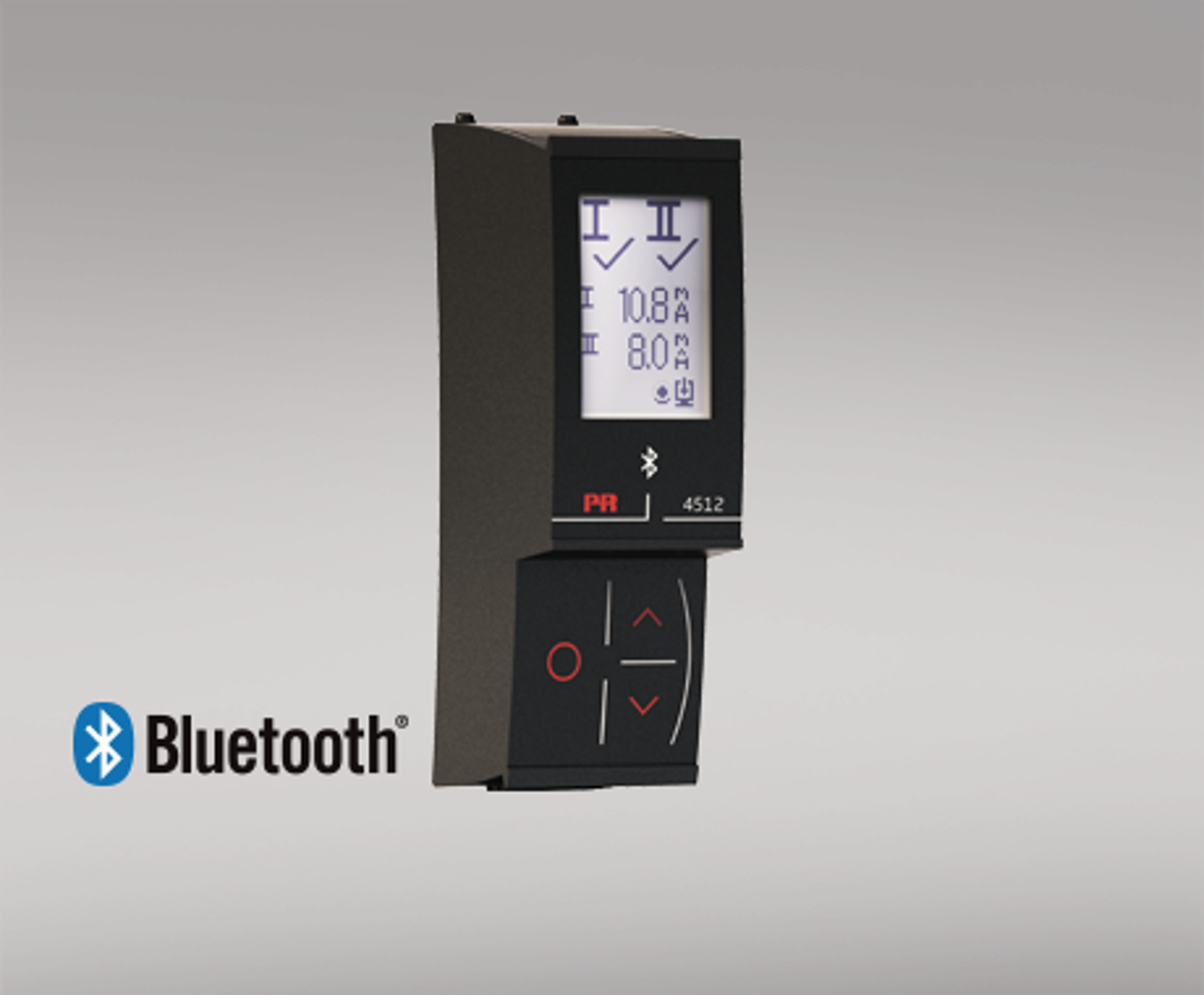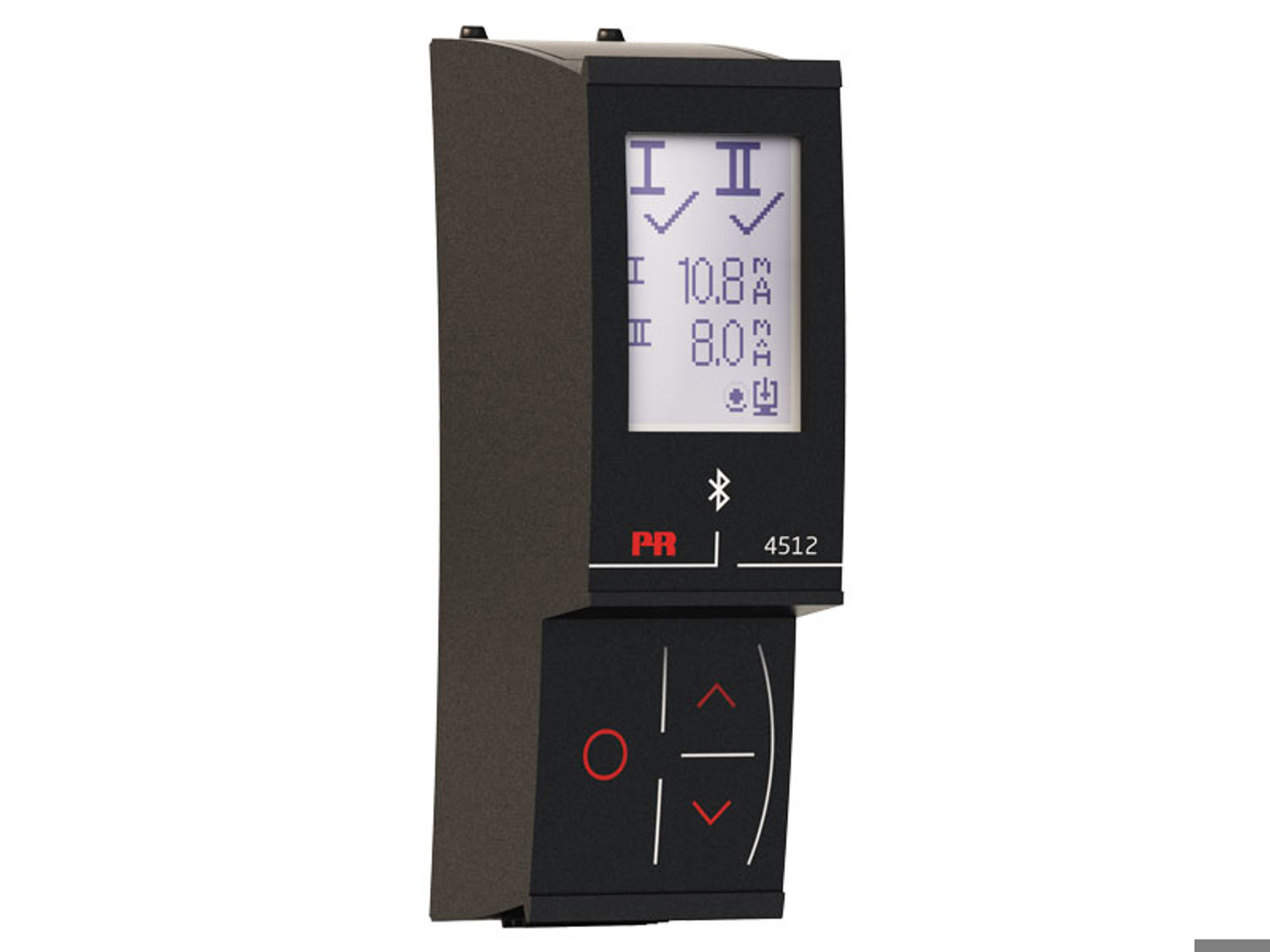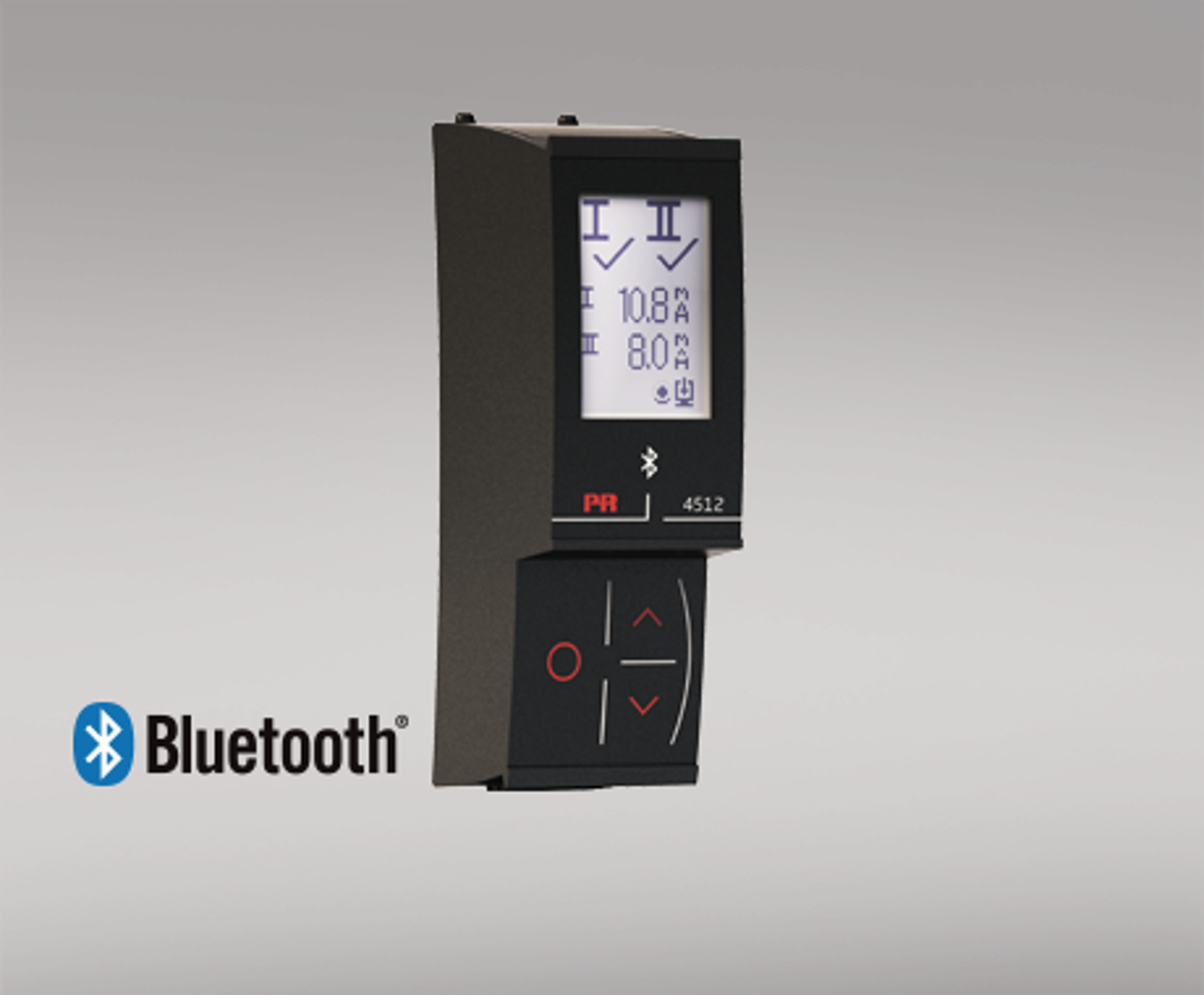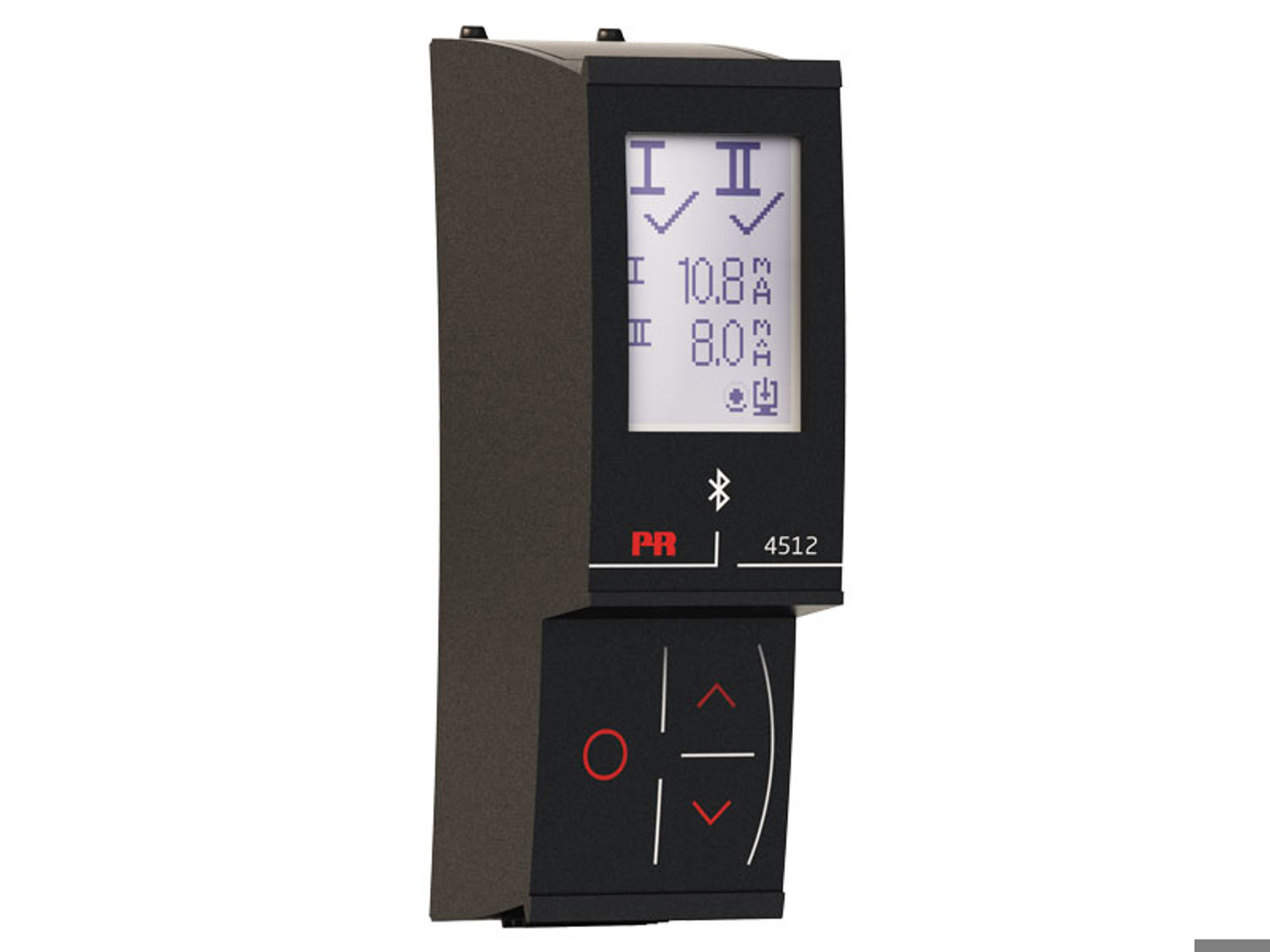 Bluetooth communication enabler
4512
Bluetooth communication between the PR 4000 and 9000 devices and iOS/Android devices

Live monitoring of process values and diagnostics on compatible smart devices or directly on the PR 4512

Advanced data logging and event logging using the built-in real-time clock
Applications
Program devices via Bluetooth using an iOS/Android device running the free PPS app (PR Process Supervisor).
Use PPS data for preventive maintenance.
All logged data can be exported in .csv format, for advanced data analysis off-site.
On-site analysis of real-time process data on an iOS/Android compatible device.
Off-site analysis of historic process data on a PC using PReset.
Technical characteristics
PR 4512 runs Bluetooth 4.2, and requires a smart device with 4.0 or newer.
PPS is compatible with iOS and Android devices.
The PR 4512 automatically detects the device setting on the connected PR 4000 and 9000 device.
An internal battery energizes the 4512 real-time clock for at least 2 years, should the 4512 remain de-energized.
Typical data logging capacity is more than 30 days at 1 second intervals.
Easy to read dot matrix LCD display.
Fast pairing or safe pairing via two-factor authentication.
Mounting / installation / programming
Mounting in Zone 2 / Div. 2.
The 4512 can be moved from one device to another. The individual system 4000/9000 device configuration of a transmitter can be saved and downloaded to subsequent transmitters.
Programmed parameters can be protected by a user-defined password.
When mounted on devices that are installed upside down, a menu selection rotates the 4512 display 180 degrees and reverses the up/down button functions.
All data, including configuration, data log and event log from a PR 4000 / 9000 device can be transferred to a PC using the PR 4590.
Please find an updated list of countries who have approved the use of 4512 at: www.prelectronics.com/4512-bluetooth-approvals/
Data sheet & Manuals
---
Data sheet
---
Manuals
Previous versions
Latest version
---
Manuals in Russian
Previous versions
Latest version
Approvals & Certificates
---
ATEX certificate
---
IECEx certificate
---
UKEX Certificate
---
FM certificate
---
Bluetooth certificate Australia
---
Bluetooth certificate Brazil
---
Bluetooth certificate China
---
Bluetooth certificate Peru
---
Bluetooth certificate Singapore
---
Bluetooth certificate Malaysia
---
EAC declaration
Supplementary documentation
---
EU Declaration of Conformity
---
UKCA Declaration of Conformity
---
Supplemental information
---
PR 4512 data logging capacity
Safety note
---
Safety note
Previous versions
Latest version
Environmental Conditions
| | |
| --- | --- |
| Operating temperature | -20°C to +60°C |
| Storage temperature | -20°C to +85°C |
| Relative humidity | < 95% RH (non-cond.) |
| Protection degree | IP20 |
| Installation in | Pollution degree 2 & meas. / overvoltage cat. II |
Mechanical specifications
| | |
| --- | --- |
| Dimensions (HxWxD) | 73.2 x 23.3 x 26.5 mm |
| Dimensions (HxWxD) w/ 4000/9000 unit | 109 x 23.5 x 131 mm |
| Weight approx. | 30 g |
Common specifications
Supply

Supply voltage

6.5...20 V supplied from host 4000 / 9000 device

Max. required power

0.15 W

Data logging

Memory

100 MB

Capacity

> 2.75 million data points (depending on the connected PR device)

Data retention, without power

~ 10 years

Extended EMC immunity: NAMUR NE21, A criterion, burst

No loss of communication

Internal battery back-up (for real-time clock)

2 years (@ 25°C)

Calibrated clock accuracy

<±60 s/year @ 25°C

Bluetooth communication

BLE 4.2

Bluetooth radio

Class 2
I.S. / Ex marking
| | |
| --- | --- |
| ATEX | II 3 G Ex ec IIC T5 |
| IECEx | Ex ec IIC T5 Gc |
| FM, US | Cl I, Div 2, Gp A, B, C, D T5; Cl I, Zn 2, Grp IIC T5 |
| FM, CA | Cl I, Div 2, Gp A, B, C, D T5 |
Observed authority requirements
Directives

EMC

2014/30/EU & UK SI 2016/1091

ATEX

2014/34/EU & UK SI 2016/1107

RED

2014/53/EU & UK SI 2017/1206

RoHS

2011/65/EU & UK SI 2012/3032

Standards

Standard for Safety

ANSI/ISA 61010-1 : 2004

Bluetooth

Europe, CE

117-37823-1

USA, FCC

ID QoQBGM111

Canada, IC

5123A-BGM111

China, SRRC

2018DJ6574

Australia, RCM

42 004 182 772

Brazil, Anatel

06541-18-11723

Japan, MIC

R 209-J00192

Korea, KC

MSIP-CRM-BGT, BGM111

Malaysia, SIRIM QAS

RAHY/63M/1020/S(20-4544)

Singapore, IMDA

N1861-20

EAC

TR-CU 020/2011
Approvals
| | |
| --- | --- |
| ATEX | DEKRA 13ATEX0098 X |
| IECEx | DEK 13.0026 X |
| UKEX | DEKRA 21UKEX0167X |
| c FM us | FM18US0268X / FM18CA0129X |
Need support to select the right product for your application?
Our sales engineers are ready to help specify the right device to meet your needs.
Reach out by phone to get in touch with us straight away – or use the contact form or quick quote function to send your RFQ directly from the website. You'll get a response within 24 hours on normal business days.
You can expect to get a confirmed delivery date via email within 2 days after we have received your order.
As soon as your package leaves our warehouse, you'll receive tracking details via email. And if you have any questions along the way we're just a phone call or email away.
State-of-the-art manufacturing

Our 8,500 sqm integrated and automated manufacturing campus in Denmark covers the entire value-chain from design and development to manufacturing. It allows us to design and optimize for testing and manufacturing thereby constantly driving quality up and costs down.
Dedicated Presale / Aftersales
Our more than 80 dedicated sales engineers can help specify the right device for your application. Backed by our 9 subsidiaries and more than 40 dedicated partners, we are directly accessible in more than 40 countries around the world.

 
Product reliability
Although we'd always like to be top of mind, we recognize our job is mainly to provide peace of mind. Install & Forget® is our way of saying that once installed, our devices will continue to perform even in the toughest environments. And we are not afraid to back that statement up with commitments.
Product deployment
Our devices are intuitive and simple to configure. Once installed they visualize rich diagnostics data, allowing the operator to plan preventative maintenance, maximizing process up-time.

 
Smart products
Many of our devices are designed to accommodate current and future communication enablers, providing the operator with multifunctional capabilities that extends into the future.

 

Check out our range of communication interfaces