Q11: What is a NAMUR sensor?
Answer: A NAMUR sensor is a 2-wire proximity sensor that is usually powered by 8 VDC.
How does a NAMUR sensor work?
Answer: When the sensor detects the target, the current flow through the sensor drops to less than 1.2 mA. When the target moves away from the sensor and is not detected, the current flow increases to above 2.1 mA.
This change in current level is detected by the instrument to determine if the NAMUR sensor is detecting a target. Switch amplifiers such as 5202B, 9202A, 9202B and Frequency converters including 5223A, 5223B, 5225A are capable of interfacing with a NAMUR sensor.
Here is a diagram which illustrates this: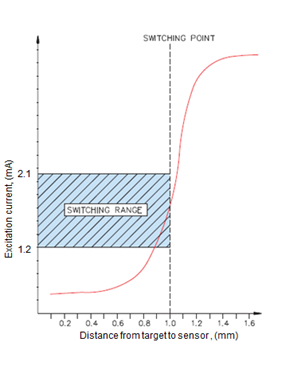 Where are NAMUR sensors used?
Answer: NAMUR sensors are used for fast measurement of revolutions, e.g. rotating components of machines, waves, turbines, etc. The result is a pulse that is emitted once (or several times, depending on the measuring point). The number of pulses per time gives the information about the rotational speed of the measured object.
What is NAMUR?
Answer: NAMUR is an acronym for "Normenarbeitsgemeinschaft für Mess- und Regeltechnik in der chemischen Industrie".
NAMUR was originally founded as a body to represent users of measurement and control technology within the Chemical, Pharmaceutical and Petrochemical industries.
Initial work was on the standardization of interfacing to 4-20 mA and proximity switches. Working groups across 4 work areas, create recommendations and worksheets to improve technology development and integration.
NAMUR – User Association of Automation Technology in Process Industries
What is a NAMUR recommendation?
Answer: An important aspect of the NAMUR group's work is their "recommendations".
NAMUR recommendations have an "NE" designation and are used for defining equipment requirements, ensuring they are fit for purpose and suitable for specific application.
NAMUR recommendations often influence the content of relevant international standards. The recommendations often include more robust testing over the comparable base standards and manufacturers can see compliance as an indicator of performance.