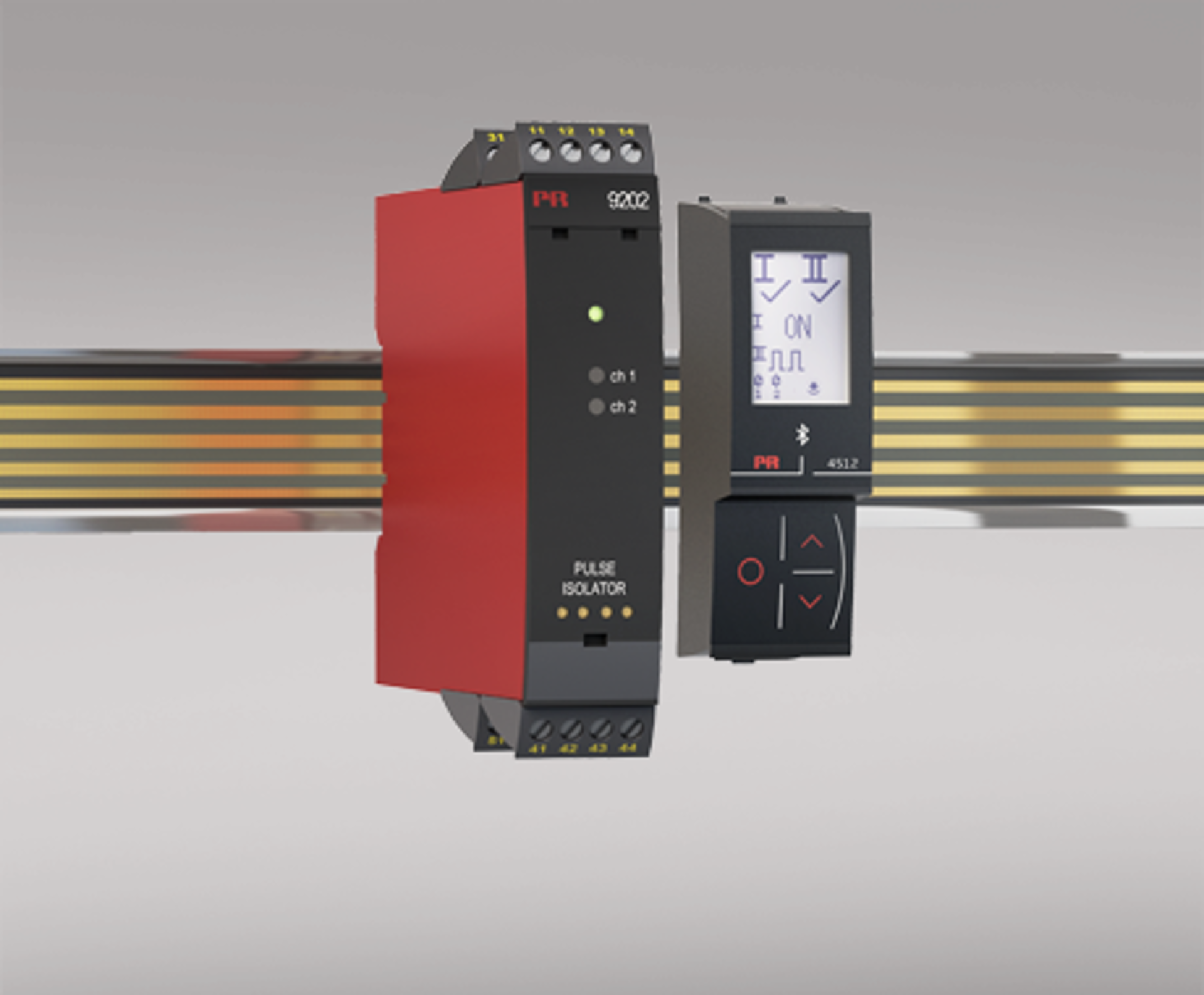 Pulse isolator
9202A
Interface for NAMUR sensors and switches

Extended self-diagnostics and detection of cable fault

1 or 2 channels

Can be supplied separately or installed on power rail, PR type 9400

SIL 2-certified via Full Assessment
---
Advanced features
Configuration and monitoring by way of detachable display front (PR 4500).
Selection of direct or inverted function for each channel via PR 4500.
Advanced monitoring of internal communication and stored data.
Optional redundant supply via power rail and/ or separate supply.
SIL 2 functionality is optional and must be activated in a menu point.
Application
9202A can be mounted in the safe area and in zone 2 / Class 1, Division 2, Group A, B, C, D.
Pulse isolator for transmission of signals from NAMUR sensors and mechanical switches.
Monitoring of error events and cable breakage via the individual status relay and/or a collective electronic signal via the power rail.
The 9202A has been designed, developed and certified for use in SIL 2 applications according to the requirements of IEC 61508.
Suitable for the use in systems up to Performance Level "d" according to ISO-13849.
Technical characteristics
1 green and 2 yellow/red front LEDs indicate operation status and malfunction.
2.6 kVAC galvanic isolation between input, output and supply.
Mounting
The devices can be mounted vertically or horizontally without distance between neighbouring units.
Environmental Conditions
| | |
| --- | --- |
| Operating temperature | -20°C to +60°C |
| Storage temperature | -20°C to +85°C |
| Calibration temperature | 20...28°C |
| Relative humidity | < 95% RH (non-cond.) |
| Protection degree | IP20 |
| Installation in | Pollution degree 2 & meas. / overvoltage cat. II |
Mechanical specifications
| | |
| --- | --- |
| Dimensions (HxWxD) | 109 x 23.5 x 104 mm |
| Dimensions (HxWxD) w/ 4501/451x | 109 x 23.5 x 116 / 131 mm |
| Weight approx. | 170 g |
| Weight incl. 4501 / 451x (approx.) | 185 g / 200 g |
| DIN rail type | DIN EN 60715/35 mm |
| Wire size | 0.13...2.08 mm2 AWG 26...14 stranded wire |
| Screw terminal torque | 0.5 Nm |
| Vibration | IEC 60068-2-6 |
| 2...13.2 Hz | ±1 mm |
| 13.2...100 Hz | ±0.7 g |
Common specifications
Supply

Supply voltage

19.2...31.2 VDC

Fuse

400 mA SB / 250 VAC

Max. required power

≤ 1.1 W...≤ 1.3 W / ≤ 1.5 W...≤ 1.9 W (1 / 2 ch.)

Max. power dissipation, 1 / 2 ch.

≤ 1.2 W / ≤ 1.6...1.8 W

Isolation voltage

Test /working: Input to any

2.6 kVAC / 300 VAC reinforced isolation

Output 1 to output 2

1.5 kVAC / 150 VAC reinforced isolation

Status relay to supply

1.5 kVAC / 150 VAC reinforced isolation

Auxiliary supplies

NAMUR supply

8 VDC / 8 mA

Programming

PR 4500 communication interfaces

Response time for cable fault

< 200 ms
Input specifications
| | |
| --- | --- |
| Sensor types | NAMUR according to EN 60947-5-6 / mechanical contact |
| Frequency range | 0...5 kHz |
| Min. pulse length | > 0.1 ms |
| Input resistance | Nom. 1 kΩ |
| Trig level, signal | < 1.2 mA, > 2.1 mA |
| Trig level, cable fault | < 0.1 mA, > 6.5 mA |
Output specifications
Relay output

Max. switching frequency

20 Hz

Max. voltage

250 VAC / 30 VDC

Max. current

2 AAC / 2 ADC

Max. AC power

500 VA / 60 W

Status relay

Max. voltage

125 VAC / 110 VDC

Max. current

0.5 AAC / 0.3 ADC

Max. AC power

62.5 VA / 32 W

NPN outputs

Max. switching frequency

5 kHz

Min. pulse length

> 0.1 ms

Max. load, current / voltage

80 mA / 30 VDC

Voltage drop at 80 mA

< 2.5 VDC
Observed authority requirements
| | |
| --- | --- |
| EMC | 2014/30/EU |
| LVD | 2014/35/EU |
| ATEX | 2014/34/EU |
| RoHS | 2011/65/EU |
| EAC | TR-CU 020/2011 |
| EAC Ex | TR-CU 012/2011 |
| EAC LVD | TR-CU 004/2011 |
Approvals
| | |
| --- | --- |
| ATEX | KEMA 07ATEX0146 X |
| IECEx | KEM 06.0039X |
| c FM us | FM19US0055X / FM19CA0028X |
| c UL us, UL 61010-1 | E314307 |
| CCC | 2020322309003424 |
| c UL us, UL 913 | E233311 (only 9202xxx-U9) |
| EAC Ex | RU C-DK.HA65.B.00355/19 |
| DNV Marine | TAA00000JD |
| ClassNK | TA18527M |
| SIL | SIL 2 certified & fully assessed acc. to IEC 61508 |