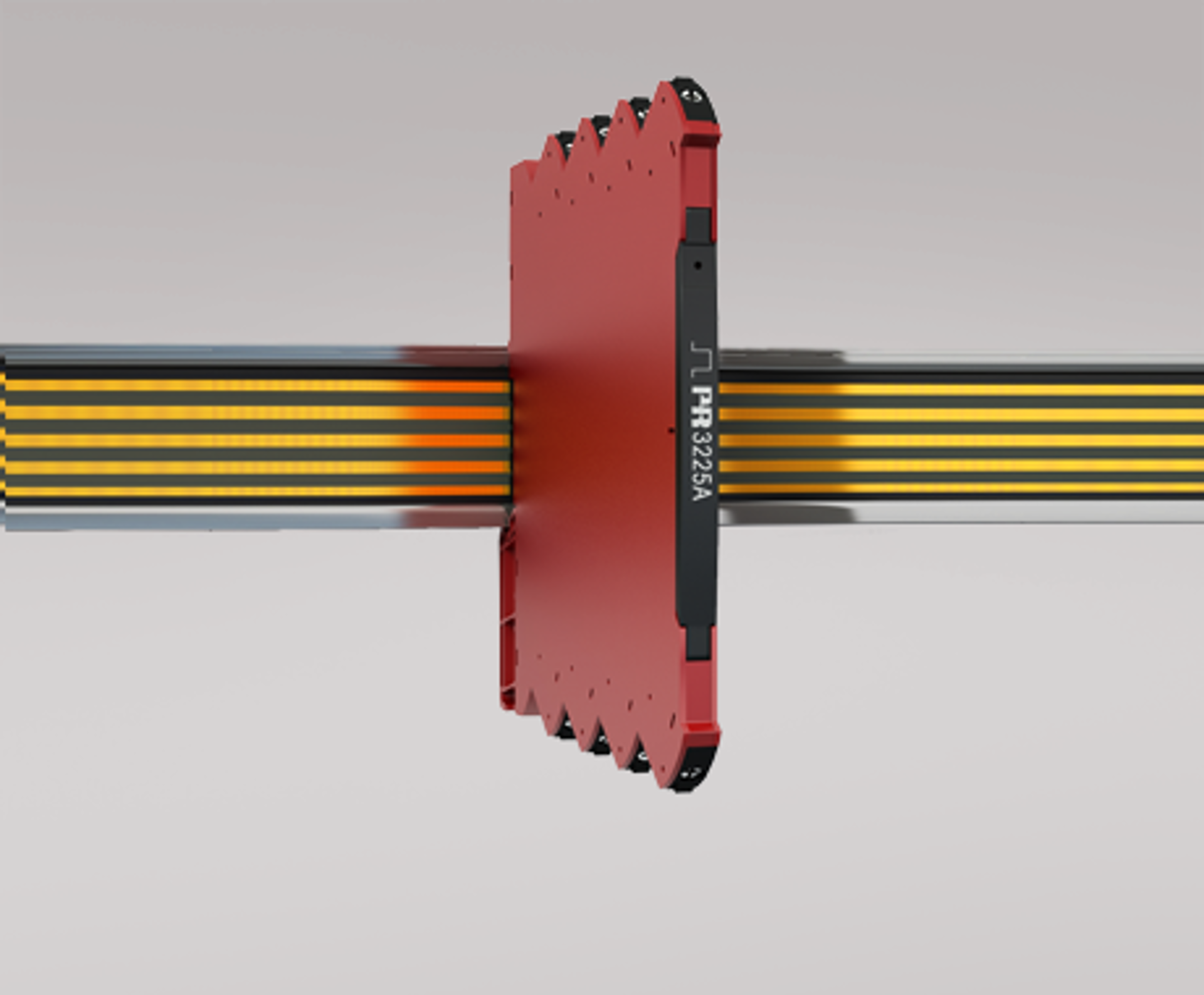 Universal frequency converter
3225
Input: NAMUR, NPN, PNP, Tacho, TTL & S0

Output: Universal mA / V or relay

2.5 KVAC isolation

DIP-switch or display programmable

Power supply 16.8 VDC…31.2 VDC
---
Functional highlights
Measures frequencies up to 100 kHz.
Active current output.
Buffered voltage output 10 VDC.
2-point process calibration. 
User-programmable trigger levels -0.05…6.5 V and sensor supply 5…17 V.
NAMUR sensor error detection.
Output relay with windows, setpoint and latch functionality. 
Simulation of process value during commissioning / maintenance.
Fast response time, with simultaneous sensor error detection (PATENTED). 
All terminals are over-voltage protected, polarity protected and short-circuit protected.
Technical highlights
Accuracy < 0.06% / span.
Response time < 30 ms.
2.5 kVAC, 3-port galvanic isolation.
Wide ambient temperature range -25...70°C.
NAMUR NE21, NE43.
Programming
Easy configuration via DIP switches.
Factory calibrated in all selectable measurement ranges.
Configuration, monitoring, and diagnostics using PR 4500 detachable communication interfaces via the PR 4590 ConfigMate.
All programming can be password protected.
Scrolling help text in 7 languages.
Mounting
Units can be mounted side by side, horizontally and vertically, without air gap on a standard DIN rail, even at 70°C ambient temperature. 
Units can be supplied separately or installed on PR 9400 power rail.
The narrow 6.1 mm housing allows up to 163 units per meter.
Environmental Conditions
| | |
| --- | --- |
| Operating temperature | -25°C to +70°C |
| Storage temperature | -40°C to +85°C |
| Calibration temperature | 20...28°C |
| Relative humidity | < 95% RH (non-cond.) |
| Protection degree | IP20 |
| Installation in | Pollution degree 2 & meas. / overvoltage cat. II |
Mechanical specifications
| | |
| --- | --- |
| Dimensions (HxWxD) | 113 x 6.1 x 115 mm |
| Weight approx. | 70 g |
| DIN rail type | DIN EN 60715/35 mm |
| Wire size | 0.13...2.5 mm2 / AWG 26...12 stranded wire |
| Screw terminal torque | 0.5 Nm |
Common specifications
Supply

Supply voltage

16.8...31.2 VDC

Fuse

400 mA SB / 250 VAC

Max. required power

≤ 1.2 W

Max. power dissipation

0.65 W

Isolation voltage

Isolation voltage, test / working

2.5 kVAC / 300 VAC (reinforced)

Response time

Response time (0...90%, 100...10%)

≤ 30 ms

Auxiliary supplies

Sensor supply limitation

23 mA, 5…17 V

Signal dynamics, output

18 bit

Long term stability, current, 1yr / 5yr @ 25°C

≤ 0.058% / ≤ 0.101%

Long term stability, voltage, 1yr / 5yr @ 25°C

≤ 0.032% / ≤ 0.058%

Accuracy

See manual for details

EMC immunity influence

< ±0.5% of span

Extended EMC immunity: NAMUR NE21, A criterion, burst

< ±1% of span
Input specifications
Frequency input

Frequency range

0.001 Hz to 100 kHz

Time range, time function

10 μs to 999.9 s

Max. frequency / min. pulse width, with input filter ON

75 Hz / 8 ms

Sensor specifications

Tacho, trig-level LOW / HIGH

≤ -50 mV / ≥ +50 mV

NPN / PNP, trig-level LOW / HIGH

≤ 4.0 V / ≥ 7.0 V

TTL, trig-level LOW / HIGH

≤ 0.8 V / ≥ 2.0 V

S0, trig-level LOW / HIGH

≤ 2.2 mA / ≥ 9.0 mA

NAMUR, trig-level LOW / HIGH

≤ 1.2 / ≥ 2.1 mA

Special voltage / current input

User-programmable trig-levels

-0.05...6.50 V 0.0...10.0 mA

Output specifications
Current output

Signal range, active

0...23 mA

Programmable signal ranges

0 / 4...20 mA

Load (@ current output)

≤ 600 Ω

Load stability

≤ 0.001% of span / 100 Ω

Response time, programmable

0.0...60.0 s

Sensor error indication

0 / 3.5 / 23 mA / none

Current limit

≤ 28 mA

Voltage output

Signal range

≤ 11.5 VDC

Programmable signal ranges

0...1; 0…5; 0...10; 0.2...1; 2…10 VDC

Load (@ voltage output)

≥ 10 kΩ

Response time, programmable

0.0...60.0 s

Relay output

Relay functions

Setpoint, Window and Latch

Hysteresis

0...100%

ON and OFF delay

0...3600 s

Power On delay

0...9999 s

Sensor error reaction

Break / Make / Hold

Max. voltage

250 VAC / 200 VDC

Max. current

2 A

Max. AC power

500 VA

Max. DC current, resistive load ≤ 30 VDC

2 ADC

Max. DC current, resistive load > 30 VDC

See manual for details
Observed authority requirements
| | |
| --- | --- |
| EMC | 2014/30/EU & UK SI 2016/1091 |
| LVD | 2014/35/EU & UK SI 2016/1101 |
| RoHS | 2011/65/EU & UK SI 2012/3032 |
| ATEX | 2014/34/EU & UK SI 2016/1107 |
Approvals
| | |
| --- | --- |
| ATEX | KEMA 10ATEX0147 X |
| IECEx | KEM 10.0068X |
| UKEX | DEKRA 21UKEX0055X |
| UL | UL 61010-1 |