Q11: What is a NAMUR sensor?
Answer: A NAMUR sensor is a 2-wire proximity sensor that is usually powered by 8 VDC.
When the sensor detects the target, the current flow through the sensor drops to less than 1.2 mA. When the target moves away from the sensor and is not detected, the current flow increases to above 2.1 mA.
This change in current level is detected by the instrument to determine if the NAMUR sensor is detecting a target. PR products: 5202B, 9202A, 9202B, 5223A, 5223B, 5225.
Here is a diagram which illustrates this: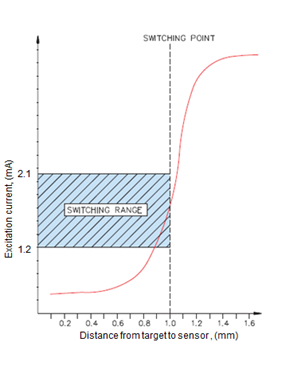 Click on the image to enlarge.