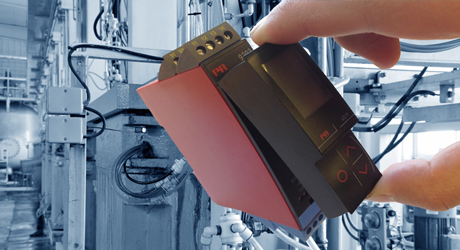 PR 4511 - remote access to your process values
The PR 4511 communication enabler represents PR's innovative take on providing easy and cost-effective remote access to your process values - by enabling existing and future PR 4000 and 9000 devices for digital communication.
Smart communication with your PR devices
With the PR 4511 operational interface you can access your process values in four different ways while still preserving the analog signal. The interface offers local or remote access to your process values - monitoring, simulation and configuration.
It is designed for easy mounting - simply snap it onto the front of your installed device. No tools are necessary. It connects to standard PR 4xxx and 9xxx devices and, when mounted, PR 4511 auto-detects the device settings. You have the possibility to use password protected access to programmed parameters and to copy the unit configuration from one device to another.
Access devices in seconds - remotely
PR customers who are using the PR 4511 are telling us that they are pleased with its ability to provide remote asset management. It is especially convenient when you need to access devices in inconvenient or geographically remote areas.
With the possibility to gain remote access to installed devices there is often no need to deploy a technician to the site. Examples of such installations are:
Wind or hydroelectric power utilities
Water and wastewater utilities (sludge filters, pond levels, pump flows or other values)
Petrochemical (tank farms, remote wellhead monitoring)
Waste site remediation (monitoring of tens or hundreds of wells)
Remote generators or pumping stations
| | | |
| --- | --- | --- |
| |   | Read the case story - how Lyonnaise des Eaux got wastewater lift station surveillance and management – the easier, more cost-efficient and more flexible way with the PR 4511… |
| | | |
| --- | --- | --- |
| |   | Read the case story - how SHP Automation used data provided by the PR 4511 communication enabler to develop software modules in the DCS that provide full diagnostics. SHP's client company has been able to use the data for preventive maintenance... |
|   |   |   |
> See the PR 4511 product data sheet.
> Rotate PR converters and barriers 180° with the PR 4511 display
Contact us for more information
If you would like a demo of the PR 4511 or have questions – please don't hesitate to contact us.
Wired or wireless – you decide...
The 4511 offers you four levels of interconnectivity; 1) on-site, 2) connected to Modbus RTU devices, 3) connected to any major communication protocols via gateway, or 4) remotely using the PPS app on your tablet or PC.
1. Local/ on-site access to your present and future PR 4xxx and 9xxx devices
Use the 4511 as a local operator/programming display to simulate, monitor and configure your process values on-site.
---
2. Connect to Modbus RTU devices
The 4511 can be connected individually or in parallel to any Modbus master directly by Modbus RTU (RS485).
A Modbus master can be a DCS system, a data logger, SCADA system (PC) or any programmable unit supporting Modbus.
The 4511 provides a seamless interface between the precise analogue measurements of our standard 4xxx/9xxx devices, and the world of ModBus RTU devices, ie. HMI, Nanodaq, etc.
See the YouTube video on how to configure Modbus settings with the PR 4511:
---
3. Connect to any major communication protocols via gateway
The 4511 can connect to any major communication protocol via PR gateway or 3rd party gateways.
PR currently offers the PR 4801 capable of converting the ModBus RTU signal to Ethernet TCP/IP.
3rd party providers offer solutions converting the ModBus RTU signal to other communication protocols as needed.
See the YouTube video on how to set-up the PR 4511 communication interface for major communication protocols:
---
4. Remote access using the PPS app on your tablet or PC
The 4511 and PPS app do much more than just display your process values… PPS offers you:
Visualization of process values, diagnostics, simulation, and configuration.
Remote access to stop or start a system, change alarm setpoints, re-scale the measured values, manually activate or de-activate alarm contacts and more.
To use the PPS app you need to install the PR 4801 Gateway.
PPS is provided free of charge and available on iOS, Windows, Android and Windows Mobile.
> PPS app for iOS, for Android, for PC/browser.