10 questions and answers about the PR 4511 communication enabler
For new installations and process industry professionals who already use PR 4000/9000 devices in existing panels, the 4511 represents an easy way to go digital. Here are the most frequently asked questions about the 4511 communication enabler.
Question: What is the 4511 communication enabler?
Answer: The 4511 communication enabler is a display and communication interface you can snap onto the front of your installed PR 4000 and 9000 series devices.

When mounted it offers you local and remote access to monitor, simulate and configure your process values – onsite or remote, wired or wirelessly.
Question: What are the connectivity options?
Answer: The 4511 offers three ways of interconnectivity;
showing process values on the local display,
connecting directly to Modbus RTU devices, or
connecting to many major communication protocols via gateway.
Question: What can I see on the display?
Answer: The 4511 offers monitoring, simulation and configuration capabilities. The display can be used to read the process signal, simulate the output signal, indicate sensor errors and internal module errors and locally configure the device.
Question: Can I get both analog and digital signals?
Answer: Yes – you can simultaneously obtain both analog signals and digital communication. You have the full functionality of the transmitter with the 4511 connected. The 4511 provides digital redundancy of the process value or additional measurement in order to secure stability and data availability.
Question: Can I convert signals from or going to I.S. classified or hazardous areas?
Answer: When mounted on a PR 9000 series device (9xxx) any signal coming from or going to I.S. classified areas, like AI, AO, DI and DO signals can be converted to a digital signal for transmission over a Modbus network.
Question: Can I copy the settings from one 4xxx or 9xxx to another device using the 4511?
Answer: Yes – when using the 4511 onsite you can save time by saving an existing configuration in the PR 4511 programming interface and load that configuration into a similar PR 4000 or 9000 series device.
The feature is also offered by the 4501 – see how it is done in this video.
Question: Can I use the 4511 to get diagnostics data for preventive maintenance?
Answer: Yes – with the 4511 mounted on 4000 series or 9000 series devices, the 4511 offers digital access to process values and extensive diagnostics. 
Question: My installations and outdoor panels are located  far away – will the 4511 make it possible to manage devices remotely?
Answer: PR customers who are using the PR 4511 tell us that they are pleased with its ability to provide remote asset management. It is especially convenient when you need to access devices in inconvenient or geographically remote areas.
By gaining remote access to installed devices there is often no need to deploy a technician to the site. Examples of such installations are: wind or hydroelectric power utilities, water and wastewater utilities (sludge filters, pond levels, pump flows or other values), petrochemical (tank farms, remote wellhead monitoring), waste site remediation (monitoring of tens or hundreds of wells), and remote generators or pumping stations.
Question: Can I password protect my configuration?
Answer: Yes, programmed parameters can be protected by a user-defined password. Communicating over TCP/IP the data is also AES (SHA252) encrypted to secure your data through secure certificate exchange technology.
Question: Can I install the 4511 upside down?
Answer: Yes you can. When mounted on devices that are installed upside down, the display on the 4511 can be rotated 180 degrees and the up/down buttons switch function.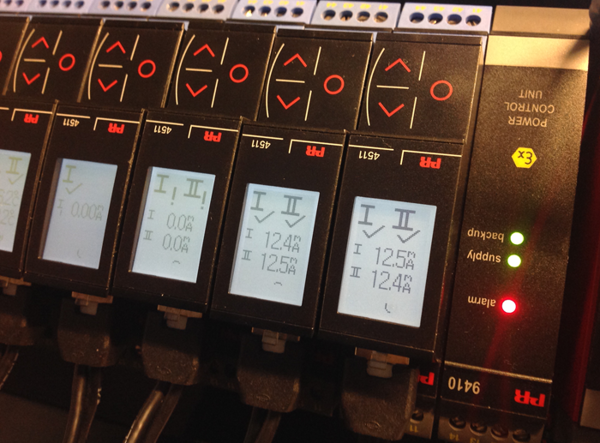 > 4511 communication enabler product datasheet
Contact us
Want to talk to a specialist about how you can use the 4511 to get easy access to your process data - and increase performance and lower cost in your industry process? Don't hesitate to contact us.
CASE STORY - Factory automation
On a recent project SHP Automation Ltd. used data provided by the PR 4511 communication enabler to develop software modules in the DCS that provide full diagnostics.
SHP's client company has been able to use the data for preventive maintenance...

CASE STORY - Wastewater
Lyonnaise des Eaux in Montgeron decided to renovate its lift station cabinets - getting a much simpler, more cost-efficient setup with remote access to transmitter data and programming – along with the ability to tele-monitor the water level in pumping stations via secure network…