Product spotlight: 4184 Universal uni-/bipolar signal transmitter
The new PR 4184 is a highly configurable DC to DC signal isolator/signal transmitter.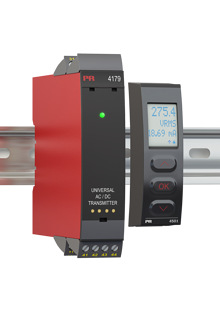 a) What range of DC signals does the PR 4184 measure?
The module measures DC inputs up to +/- 300 volts or +/- 100 mA. Additionally, the module can measure a potentiometer having up to 100 kΩ end-to-end resistance.
b) Is the PR 4184 isolated?
The PR 4184 provides 2.3 kV isolation between power, input and output ports and outputs a maximum of +/- 20.5 V or +/- 23 mA.
c) What options does the PR 4184 offer, when it comes to configuration?
For fast configuration, you can select from many pre-configured input and output ranges, like 0…10 V input = 4…20 mA output.

The PR 4184 can also be configured with custom input and output ranges. This lets you precisely match the PR 4184 to fit your application. For example, you can easily configure the module for a 4…12 mA input = 2…8 V output if that is what the application requires. The PR 4184 still meets data sheet accuracy specifications when measuring a custom input range - without recalibration.
d) Can the PR 4184 handle active and passive signals?
Yes. For complete flexibility, the PR 4184 can measure and output active or passive current signals.
e) Can it provide a "buffered voltage" output?
The module can be configured to provide a "buffered voltage" output. This high power voltage output can be connected to loads as small at 2000 Ω, making it perfect for controlling valve positioners, LED lamp ballasts, DC motor drives and other loads requiring a voltage signal with higher power than normal.
f) Can the PR 4184 linearize signals created by sensors?
By default, the PR 4184 output is linear to the measured input signal. However, the output can also be configured to represent the square root of the input signal. The square root function is used to accurately linearize signals created by sensors like orifice flowmeters, which create a signal proportional to flow rate squared. An adjustable low flow cut-off can be configured to eliminate measurement error at low flow rates.
g) Why should this unit be used in DC signal isolation/signal conditioning applications?
The PR 4184 is energized by a wide range of AC or DC voltage, has superior EMC, and a fast 20 ms response time (adjustable to 60 seconds).
h) How do PR electronics' communication interfaces, PR 4501 and PR 4511, work with the PR 4184?
The PR 4501 detachable display shows the measured DC input and the isolated DC output provided by the PR 4184. The displayed input can be scaled to match your process, with 72 selectable engineering units. An arrow pointing up or down indicates the trend of the input signal.
Additionally, easy to understand scrolling help texts appear during configuration to guide you through setting up the module. Should a sensor or module error occur, scrolling helps texts also appear to notify you of this.
The PR 4511 offers the same, as well as easy remote access to process values of all devices of the 4000 series and Modbus RTU digital communication. With the PR 4511, all modules in the 4000 series can communicate with a Modbus master.
i) How accurate is the PR 4184?
The PR 4184 provides excellent 0.05% accuracy and due to the extremely good signal dynamics minimum spans as low as 25 mV / 0.5 mA can be selected.