Product spotlight: The PR electronics 4179 Universal AC/DC transmitter
Learn more about the PR 4179, which measures AC voltage or current, provides 2.3 kV isolation, and outputs industry standard DC voltage and current signals that are easily measured by your control system.
a) What benefit has the built-in shunt resistor?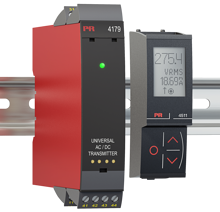 With its built-in precision shunt resistor, the PR 4179 measures a maximum of 5 A AC current. Most current transformers on the market output 0…5 A AC, so the PR 4179 can measure a typical current - without requiring an external shunt resistor. 
b) Is an external step-down transformer needed for the PR 4179?
The PR 4179 measures a maximum of 300 V AC. This means the module can measure 230 and 120 V AC sources commonly found throughout the world - without requiring an external step-down transformer.
c) Why does the module have a wide input frequency range?
 The PR 4179 measures AC signals that alternate between 40…400 Hz. This wide input frequency range makes the PR 4179 suitable in specialty applications. For example, measuring 400 Hz voltage and current signals found in ground support equipment for aircraft, ground based radar power supplies, and some mainframe computer power supplies.
d) What kind of outputs does the PR 4179 provide?
 For complete flexibility, the PR 4179 provides uni-/bipolar voltage or current outputs, and the current output can be active or passive. The wide selection of configurable output types makes it easy to connect the PR 4179 output to nearly any analog input device.
e) How do PR electronics' communication interfaces, PR 4501 and PR 4511, work with the PR 4179?
To speed up configuration, you can use the PR 4501 to select pre-configured input ranges like 0…5 A or 0…230 V AC. You can also configure a custom input range. This lets you precisely match the PR 4179 input span to the AC signal being measured. The module still meets data sheet accuracy specifications when measuring a custom input range – without recalibration.
The interface shows the measured input value, and the isolated DC output provided by the PR 4179. The displayed input can be scaled to match your process, with 72 selectable engineering units. An arrow pointing up or down indicates the trend of the input signal.
Additionally, easy to understand scrolling help texts appear during configuration to guide you through setting up the module. Should a sensor or module error occur, scrolling helps texts also appear to notify you of this.
The PR 4511 offers the same, as well as easy remote access to process values of all devices of the 4000 series and Modbus RTU digital communication. With the PR 4511, all modules in the 4000 series can communicate with a Modbus master.