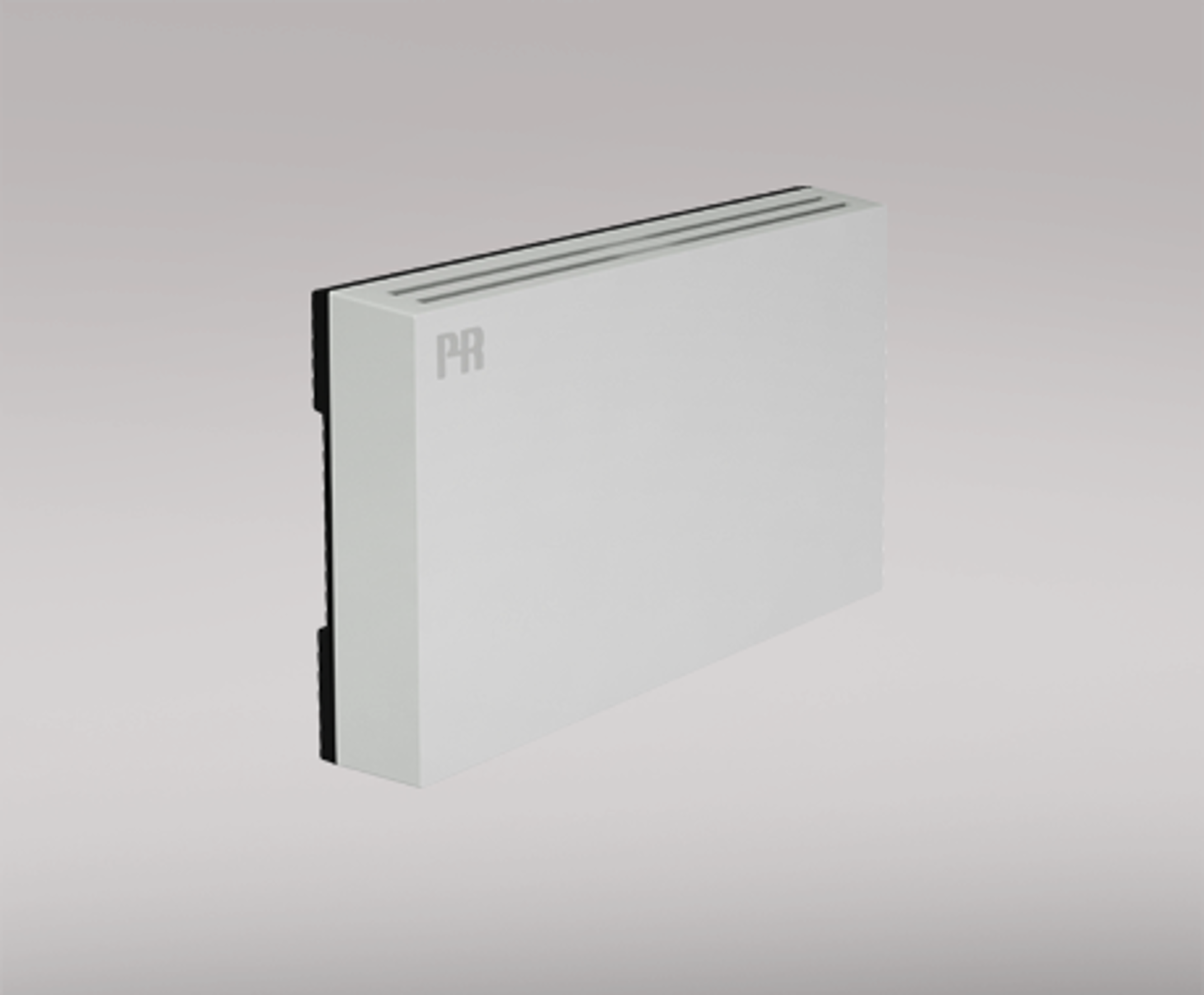 2-wire room temperature transmitter
2914
Room temperature measurement

Complete with sensor and transmitter

4...20 mA output in 2-wire connection

Easy mounting

Measurement range 0...70°C

Supply 8...35 VDC
---
Application
Electronic temperature measurement in for instance control rooms, offices, heating plants, factories, living rooms, and similar dry rooms.
Suitable as a transmitter for controllers, trip amplifiers, displays, or superior SCADA systems.
Technical characteristics
A precision Pt100 sensor with a small mass is mounted on the transmitter input thereby achieving a fast response time.
The 2-wire output signal of 4...20 mA is proportional and linear to the temperature value that influences the built-in sensor.
A reversed output signal of 20...4 mA may be ordered.
A number of different sensor error detection options may be ordered.
Protected against polarity reversal.
The bottom of the cabinet can be attached to a wall by two screws.
Visible or hidden cable access.
Environmental Conditions
| | |
| --- | --- |
| Operating temperature | 0°C to +70°C |
| Calibration temperature | 20...28°C |
| Relative humidity | < 95% RH (non-cond.) |
| Protection degree | IP30 |
Mechanical specifications
| | |
| --- | --- |
| Dimensions (HxWxD) | 70 x 121 x 25 mm |
| Weight approx. | 95 g |
| Wire size | 1 x 1.5 mm |
Common specifications
Supply

Supply voltage

8.0...35 VDC

Internal power dissipation

25 mW…0.8 W

Response time

Response time

10 s (@ 0.5 m/s)

Voltage drop

8.0 VDC

Warm-up time

5 min.

Signal / noise ratio

Min. 60 dB

Accuracy

Better than 0.3°C

Signal dynamics, input

17 bit

Signal dynamics, output

16 bit

Effect of supply voltage change

< 0.005% of span / VDC

Temperature coefficient

< ±0.01% of span / °C

Linearity error

< 0.1% of span

EMC immunity influence

< ±0.5%
Input specifications
Common input specifications

Max. offset

50% of max.°C

RTD input

Sensor current

> 0.2 mA, < 0.4 mA

Measurement range

0...70°C

Min. measurement range

25°C (span)
Output specifications
Current output

Signal range

4…20 mA

Min. signal range

16 mA

Load (@ current output)

≤ (Vsupply - 8) / 0.023 [Ω]

Load stability

≤ 0.01% of span / 100 Ω

NAMUR NE43 Upscale/Downscale

23 mA / 3.5 mA

Common output specifications

Updating time

135 ms

of span

= of the presently selected range
Observed authority requirements
| | |
| --- | --- |
| EMC | 2014/30/EU |
| EAC | TR-CU 020/2011 |