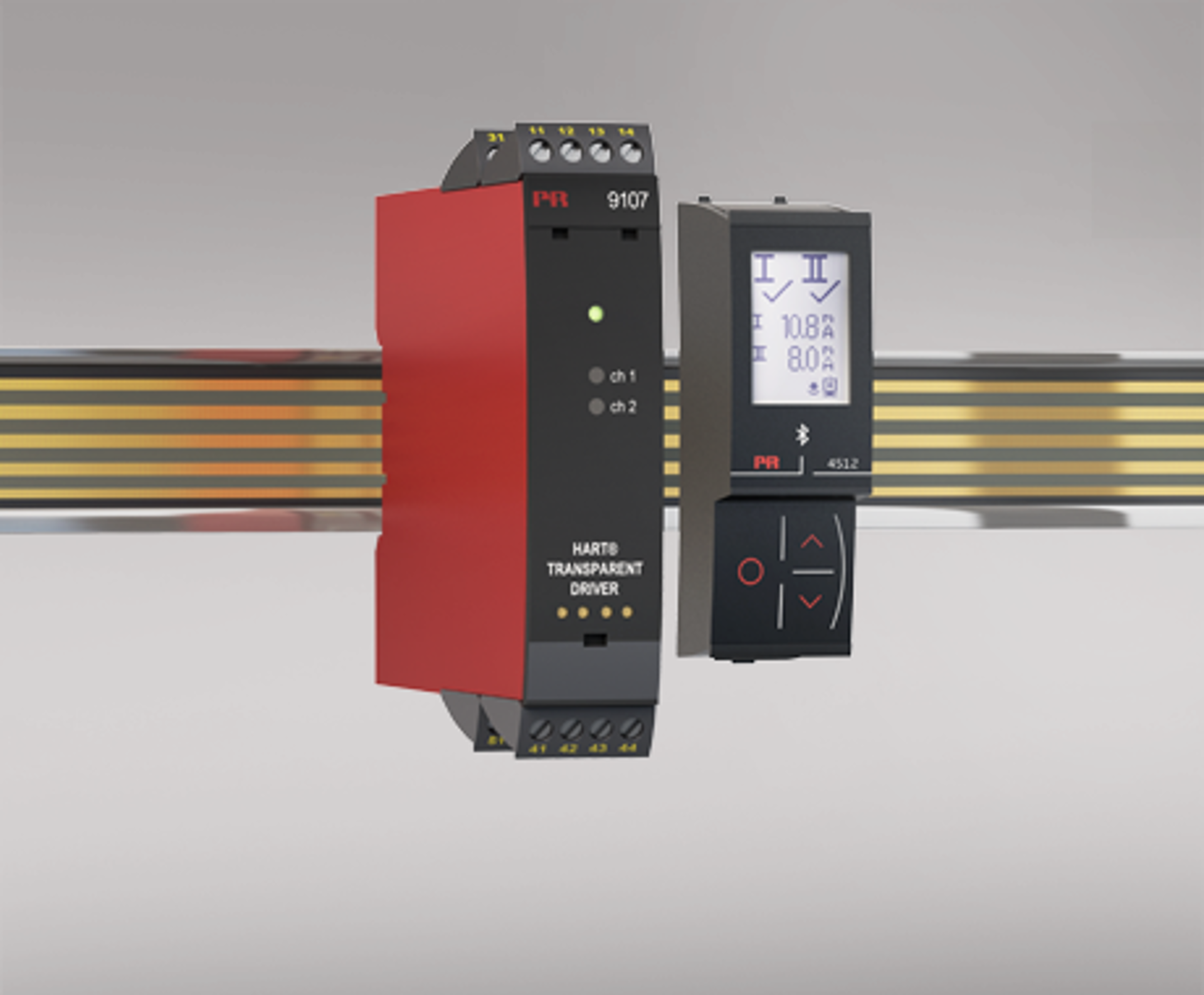 HART transparent driver
9107A
24 VDC supply via power rail or connectors

Fast response time

High active output load 725 Ohm / 20 mA

Output line fault detection via status relay

SIL2 certified via Full Assessment according to IEC 61508
---
Application
9107A is a 1- or 2-channel isolated 1:1 driver.
Operation and drive control of I/P converters, valves and indicators.
Operation of HART devices is possible as the unit transmits HART communication signals bi-directionally.

9107A can be mounted in the safe area or in zone 2 / Class I, Division 2, Groups A, B, C, D.

The PR 45xx displays the process value for each channel and can be used to define high and low limits for detection of loop current level. If these limits are exceeded, the status relay will activate.
Dual channel versions can be used for signal splitter applications - 1 in and 2 out.
Advanced features
The PR 45xx detachable display and the green and red front LEDs indicate operation status for each channel.
A tag number can be defined for each channel.
Output line fault detection.
In the 1-channel version the status relay can be used as a simple limit switch.
Suitable for the use in systems up to Performance Level "d" according to ISO-13849.
Technical characteristics
High galvanic isolation of 2.6 kVAC.
High accuracy better than 0.1%.
Continuous check of vital stored data for safety reasons.
Mounting
The devices can be mounted vertically or horizontally without distance between neighbouring units.
Environmental Conditions
| | |
| --- | --- |
| Operating temperature | -20°C to +60°C |
| Storage temperature | -20°C to +85°C |
| Calibration temperature | 20...28°C |
| Relative humidity | < 95% RH (non-cond.) |
| Protection degree | IP20 |
| Installation in | Pollution degree 2 & meas. / overvoltage cat. II |
Mechanical specifications
| | |
| --- | --- |
| Dimensions (HxWxD) | 109 x 23.5 x 104 mm |
| Dimensions (HxWxD) w/ 4501/451x | 109 x 23.5 x 116 / 131 mm |
| Weight approx. | 250 g |
| Weight incl. 4501 / 451x (approx.) | 265 g / 350 g |
| DIN rail type | DIN EN 60715/35 mm |
| Wire size | 0.13...2.08 mm2 AWG 26...14 stranded wire |
| Screw terminal torque | 0.5 Nm |
| Vibration | IEC 60068-2-6 |
| 2...13.2 Hz | ±1 mm |
| 13.2...100 Hz | ±0.7 g |
Common specifications
Supply

Supply voltage

19.2...31.2 VDC

Fuse

1.25 A SB / 250 VAC

Max. required power

≤ 1.0 W / ≤ 1.8 W (1 ch. / 2 ch.)

Max. power dissipation, 1 / 2 ch.

≤ 1.0 W / ≤ 1.8 W

Isolation voltage

Test /working: Input to any

2.6 kVAC / 300 VAC reinforced isolation

Analog output to supply

2.6 kVAC / 300 VAC reinforced isolation

Status relay to supply

1.5 kVAC / 150 VAC reinforced isolation

Response time

Response time (0...90%, 100...10%)

< 5 ms

Programming

PR 4500 communication interfaces

Signal dynamics, input

Analog signal chain

Signal dynamics, output

Analog signal chain

HART bi-directional communication frequency range

0.5...7.5 kHz

Signal / noise ratio

> 60 dB

Accuracy

Better than 0.1% of sel. range

mA, absolute accuracy

≤ ±16 μA

mA, temperature coefficient

≤ ±1.6 μA / °C

Effect of supply voltage change on output (nom. 24 VDC)

< ±10 μA

EMC immunity influence

< ±0.5% of span

Extended EMC immunity: NAMUR NE21, A criterion, burst

< ±1% of span
Input specifications
Current input

Measurement range

3.5...23 mA

Sensor error detection: Loop break 4...20 mA

< 1 mA

Input voltage drop, supplied unit

< 2 V @ 23 mA

Input voltage drop, non-supplied unit

< 4 V @ 23 mA
Output specifications
Current output

Signal range

3.5...23 mA

Load (@ current output)

≤ 725 Ω

Load stability

≤ 0.01% of span / 100 Ω

Current limit

≤ 28 mA

Status relay

Relay function

N.C.

Programmable low setpoint

0...29.9 mA

Programmable high setpoint

0...29.9 mA

Hysteresis for setpoints

0.1 mA

Max. voltage

125 VAC / 110 VDC

Max. current

0.5 AAC / 0.3 ADC

Max. voltage - hazardous installation

32 VDC / 32 VAC

Max. current - hazardous installation

1 ADC / 0.5 AAC

of span

= normal measurement range 4...20 mA
Observed authority requirements
| | |
| --- | --- |
| EMC | 2014/30/EU |
| LVD | 2014/35/EU |
| ATEX | 2014/34/EU |
| RoHS | 2011/65/EU |
| EAC | TR-CU 020/2011 |
| EAC Ex | TR-CU 012/2011 |
| EAC LVD | TR-CU 004/2011 |
Approvals
| | |
| --- | --- |
| ATEX | DEKRA 11ATEX0247 X |
| c FM us | FM16US0465X / FM16CA0213X |
| c UL us, UL 61010-1 | E314307 |
| c UL us, UL 913 | E233311 (only 9107xx-U9) |
| CCC | 2020322304003422 |
| EAC Ex | RU C-DK.HA65.B.00355/19 |
| DNV Marine | TAA00000JD |
| ClassNK | TA18527M |
| SIL | SIL 2 certified & fully assessed acc. to IEC 61508 |