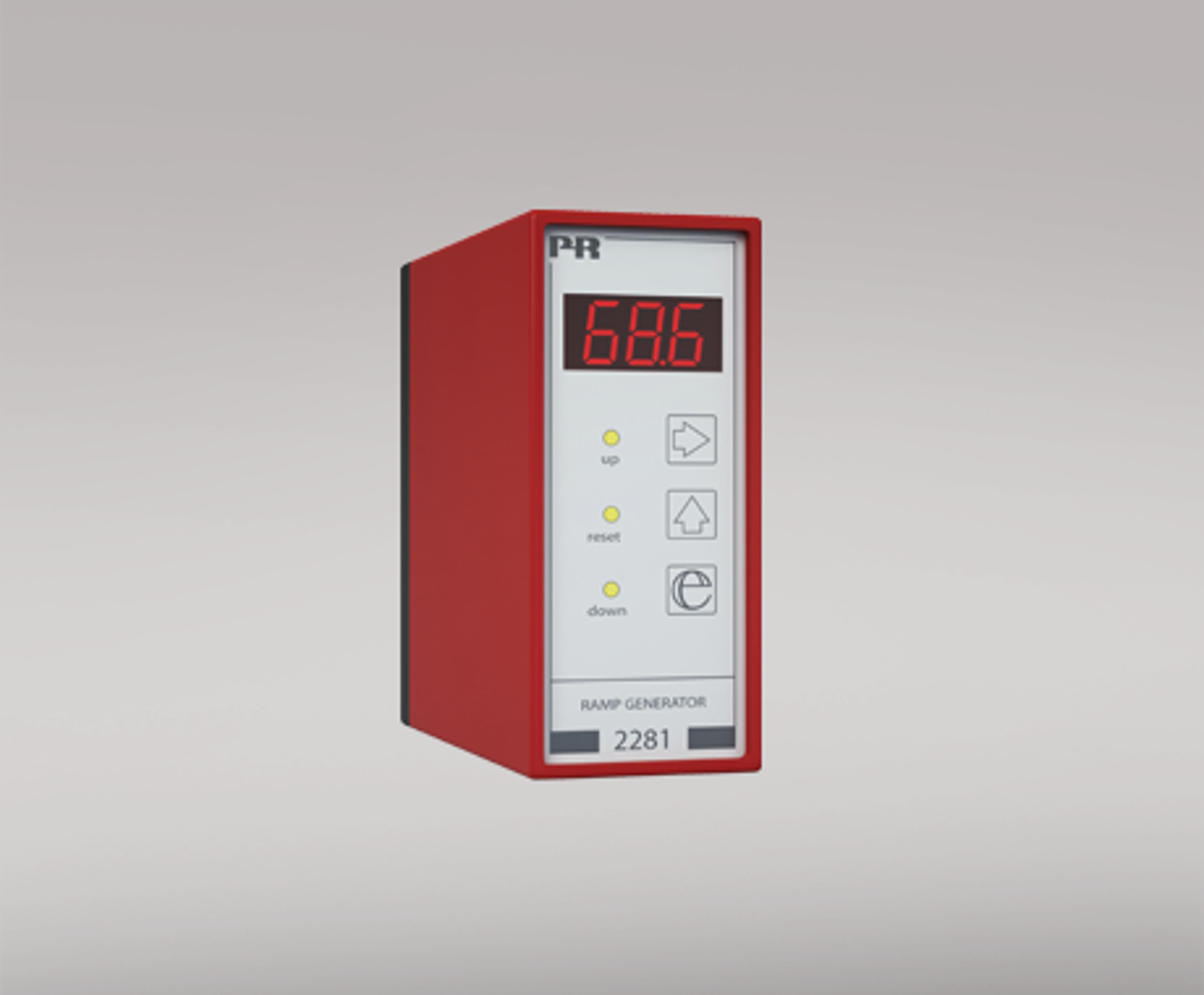 Ramp generator
2281
Multiple functions

Programmable from front

3-digit LED display

NPN and PNP inputs

Internal ramp time or external pulses

Reset or preset function
---
Advanced features
The user interface consists of a 3-digit display and 3 function keys in the front to change a function, ramp time or an output signal range.
Application
To convert digital signals to a time-controlled analog signal with either internally entered up/down time or with external pulses for up/down function.
2-phase encoder.
Ramp generator with internal time measurement.
Ramp generator with external pulses.
Technical characteristics
LED's for up, reset and down.
6 digital inputs make it possible to choose reset and up/down functions as either NPN or PNP input (+24 VDC).
Via an analog switch the up and down inputs can be switched between input filters for a pulse length > 10 ms or > 0.5 ms. The 10 ms filter is used for elimination of contact-bounce.
Analog standard current output of 0/4...20 mA or jumper selectable 0/2...10 mA, and standard voltages of 0/0.2...1 VDC, 0/2...10 VDC or special.
Mounting for a standard 11-pole socket which can be adapted for DIN rail or plate use with PR's 7023 adaptor and 7024 mounting keying.
Environmental Conditions
| | |
| --- | --- |
| Operating temperature | -20°C to +60°C |
| Calibration temperature | 20...28°C |
| Relative humidity | < 95% RH (non-cond.) |
| Protection degree | IP50 |
Mechanical specifications
| | |
| --- | --- |
| Dimensions (HxWxD) | 80.5 x 35.5 x 84.5 mm (D is without pins) |
| Weight approx. | 120 g |
Common specifications
Supply

Supply voltage

19.2...28.8 VDC

Max. required power

2.7 W

Internal power dissipation

2.4 W

Response time

Response time

< 60 ms

Signal / noise ratio

Min. 60 dB

Signal dynamics, output

16 bit

Up ramp time

0.1...999999 s

Down ramp time

0.1...999999 s

External pulses

1...15,615,744

Effect of supply voltage change

< 0.005% of span / VDC

Temperature coefficient

< ±0.01% of span / °C

Linearity error

< 0.1% of span

EMC immunity influence

< ±0.5%
Input specifications
| | |
| --- | --- |
| Digital input | Up / down inputs Reset inputs |
| NPN, digital input | Pull up 24 VDC / 6.9 mA |
| PNP, digital input | Pull down 0 VDC / 6.9 mA |
| Pulse length | >10 ms / > 0.5 ms (programmable) > 30 ms |
| Input frequency | 50 Hz / 1 kHz (max.) 16 Hz |
Output specifications
Current output

Signal range

0...20 mA

Min. signal range

5 mA

Load (@ current output)

≤ 600 Ω

Load stability

≤ 0.01% of span / 100 Ω

Current limit

20.5 mA

Voltage output through internal shunt

See manual for details

of span

= of the presently selected range
Observed authority requirements
| | |
| --- | --- |
| EMC | 2014/30/EU |
| RoHS | 2011/65/EU |
| EAC | TR-CU 020/2011 |